Shaquille O'Neal: Knicks stars need to 'take it personally' against Heat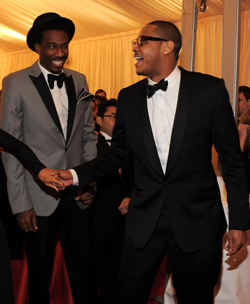 Do Amar'e Stoudemire and Carmelo Anthony need to get serious?
(Getty Images)
Good news, New York Knicks fans: Shaquille O'Neal has it all figured out.
If the Knicks, who lost to the Miami Heat in the first round of the 2012 Eastern Conference playoffs, want to avoid a similar fate in the future, O'Neal posits, New York needs its two star forwards to pick up the intensity level.
ESPNNY.com reports that O'Neal softly called out Carmelo Anthony and Amar'e Stoudemire, saying the two players need to hone in when they face the Heat's Big 3 of LeBron James, Dwyane Wade and Chris Bosh.
"I think when Carmelo plays against LeBron (James) and (Dwyane Wade), he should take it personally, like he's always talked about last (among the three). When Amar'e plays against (Chris) Bosh, he should take it personally," O'Neal said. "That's what I always used to do. I played against guys, I used to take it personally that you're not talking about me. They need to do that. In order to beat Miami, they've got to."

"They've done OK. But in New York, OK is not good enough," O'Neal said. "In order to have a legitimate 1-2 punch, OK is not good enough."
The Heat eliminated the Knicks in a five-game series that was never really competitive. In addition to playing without Jeremy Lin, the Knicks lost guards Iman Shumpert and Baron Davis to injury.
The difference in that series wasn't injuries, though. It wasn't really about New York's individual stars coming up small, either.
Anthony, in particular, did seem to rise to the challenge, putting up 41 points in New York's only win and topping 30 on two other occasions. Along the way, he looked like he was enjoying the big stage and the back-and-forth with James, who was just beginning what would become an historic postseason run. The Knicks could have given 180 percent and it wouldn't have been enough, especially since Bosh had not yet gone down with his abdominal injury.
Stoudemire was a different story, of course. His postseason numbers were down, even from his regular-season numbers. But was intensity or a lack of desire really the root of his problem? Perhaps we should consult the smashed fire extinguisher in American Airlines Arena to investigate that question. Stoudemire was literally raging mad, so upset by his shortcomings that he felt it necessary to swipe his way to an injury that produced blood stains and plenty of stitches. He was invested, contrary to O'Neal's conclusions, just not channeling that energy in productive fashion.
O'Neal's prescription here also suffers from the former athlete's classic "I used to ..." mistake, where said a player projects his own skill level and career results onto those of others. In O'Neal's case, motivation was often a key factor in deciding wins and losses. That goes without saying, considering his prodigious talent and prodigious body. The most dominant player of his generation, O'Neal won four titles during a 19-year career. Had he been "taking things personally" for the entire time, he surely would have a few more rings to his name.
The real issues for the Knicks are bigger and they are obvious: talent level and chemistry. New York simply had no answer for James, who proved unsolvable to the entire NBA and the entire Olympics field this year. They also suffer from the nature of the Anthony/Stoudemire pair: it's not a mutually beneficial relationship, as the two players are both one-way guys who need the ball to be at their best. Both their strengths and weaknesses overlap enough to cause problems and, at this point in their respective careers, it's not all that reasonable to expect massive improvement in their defensive effectiveness or their playmaking abilities.
These are deep-rooted flaws and difficult to fix, particularly in sound-bite form. For the health and well-being of future fire extinguishers, though, let's hope Stoudemire doesn't take O'Neal's conclusion to heart.