Darko Milicic was the first guy Adelman wanted gone, Timberwolves owner says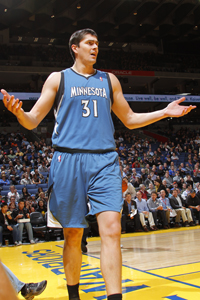 "What? Why don't you love the Darko?"
(Getty Images)
In an interview with that usual fountain of NBA news, the Twin Cities Business Journal, Timberwolves owner Glen Taylor spoke on a number of subjects about how the Wolves work now, and how they've reinvented themselves from the mess they were a few years ago.
In particular, he spoke of how the Wolves took to reshaping their roster this summer.
"Most of the moves David [Kahn] is making are heavily influenced by what Rick has asked of us. But when it comes to finances, David will tell Rick no," Taylor reveals. "At the end of the year, Rick gives me a report of what he thinks of each player. He tells me it's the same one he gave David and that David knows he is giving it to me. Then he goes through the list. He says, 'This is the first one I want gone'—that was [underachieving veteran center] Darko [Milicic]. 'This is the second one I want gone. This is what I think of this player.'

"We were going to build slowly with a young coach [Rambis] and young players. It was a good plan, but there was a misstep. Now we have a seasoned coach who has said 'This is my last job.' He is going to push faster because he wants to win sooner. But his [style of communication] is one I understand and can relate to."
via Twin Cities Business - Glen Taylor's Three-Point Play.
Three notes here:
1. When Rick Adelman, who can handle just about everyone and isn't known as a fiery taskmaster, says that you absolutely have to go? It's probably time to re-evaluate your professional life.
2. When Rick Adelman thinks "Nah, if it comes down to it, I can handle Michael Beasley more than this guy," it is again time to re-evaluate your professional life.
3. There's been a lot of questions about exactly how the Wolves' power structure stands, with much of the talk centered on how much power Kahn retained after Adelman was brought on board. If we take Taylor at his word, it would seem that he's still very much in the driver's seat for the organization. That's a testament to Kahn, as is how much better the Wolves' roster is.
It's also a concern, long-term, where it regards Kevin Love.
But get excited, Boston! You got the Wolves' first guy on the chopping block.