Warriors and Stephen Curry hopeful about extension, but talks on hold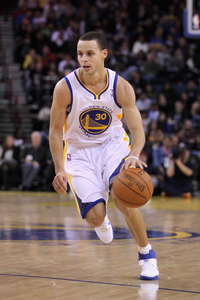 Curry wants to be in the Bay long-term.
(Getty Images)
Usually with a star player, the team desperately wants to get a guy's name on the line, and the player is hesitant due to his desire to maximize contract value and keep his options open. But with Golden State, there's kind of the opposite happening.
From CSN Bay Area:
Warriors point guard Stephen Curry and his agent both expressed optimism over the weekend that Curry and Golden State would agree to a contract extension before the regular season begins.

But the respective sides have agreed to table any extension talks until the team completes its preseason schedule and everyone sees how Curry's right ankle looks after an injury plagued 2011-12.

"I'm very optimistic about getting a deal done," said Lance Young, Curry's representative. "I think we can get something done by the 31st (Oct. 31, the deadline for Curry to sign a deal)."
via Curry, agent optimistic about extension.
The Warriors are showing uncharacteristic restraint here, looking at exactly what they're going to be able to get out of Curry and how his ankle looks. They've lost so much time and so many games to Curry's recurring injuries that they need to protect themsevles. And that's a wise decision.
Curry publicly urged the Warriors to get a deal done in August, another unusual development in a player's expiring year. But it's good that he's bought into the team and the city, and that both sides want to get something done. If he's healthy, and can get his development back on track, he could be a big part of what looks to be a significant year for the Warriors. But if there's a setback, this whole process could get ugly, and with just a month between now and the deadline, it could get tight.
(HT: HoopsHype)