Hakeem Olajuwon says the Heat can win three of the next five titles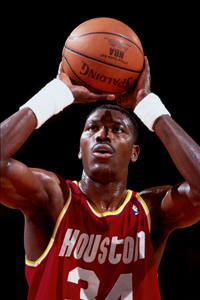 "The Dream" believes in LeBron.
(Getty Images)
Hakeem "The Dream" Olajuwon is all over the news these days for the work he did with Amar'e Stoudemire and others this summer. Two summers ago, he worked with Kobe Bryant. And last year, in a move that preciptitated one of the better postseason post performances since Shaq was in his prime, Olajuwon spent time with LeBron James.
In a wide-ranging interview with the South Florida Sun-Sentinel, the Hall of Famer shared his experiences working with the three-time MVP, and what he thinks the future holds for the Heat.
"The goal is different," Olajuwon says. "It's not to prove a point to people. Now it's just to take advantage of the opportunity: 'Can we really achieve something great in the real sense? Can we get three out of five [championships]?' "

Olajuwon's eyes widen. He leans forward.

The Dream is about to forecast an NBA nightmare.

"That is a very realistic goal," he says. "In fact, it's scary."
via How Hakeem Olajuwon helped LeBron James - South Florida Sun-Sentinel.com.
We're used to setting the bar as a dynasty, three-peats. That's the mark Michael Jordan set. But there's something to sustained dominance. The Lakers spread their championships out in the '80's, as did the Celtics. The Heat have to win multiple titles, and honestly, anything short of three is going to be a major disappointment. That's what happens when you have that ridiculous presser they had.
But three out of five would allow for the Lakers to get things to go their way in their tight window, or for the Thunder to put it together. That may be the most realistic goal for the Heat, three out of five between 2010 and and 2014. To not win the title only two out of five years seems absurd, but then, so does a team as loaded as Miami.
At least the Heat have one believer, and he just happens to be one of the best players of all time.
(HT: SLAMOnline via PBT)