Washington Wizards C Nene Hilario (foot) could sit training camp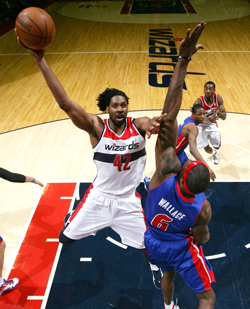 Wizards big man Nene Hilario will be eased into the 2011-12 season.
(Getty Images)
After taking on Nene Hilario and the vast majority of his 5-year, $67 million contract in a March trade, the Washington Wizards plan to treat their investment with kid gloves.
The Washington Post reported Tuesday that Nene could miss some or all of the Wizards' October training camp because of plantar fasciitis in his left foot.
"He hasn't had must time to rest this summer because of the commitment he had to his national team," [Wizards president Ernie] Grunfeld said of Nene, who missed a game in the Olympics because of soreness in his left foot. "So we're going to be very, very cautious. We're going to take it very slow with him and make sure he's 100 percent when we put him out there full time."
Grunfeld went on to say that he expects Nene to be ready for Washington's regular season opener against the Cavaliers in Cleveland on Oct. 30. The Brazilian center pencils in as a starter, alongside trade acquisition Emeka Okafor, in a new look and more mature Wizards frontline than we've seen in recent years. The Wizards have third-year big men Kevin Seraphin and Trevor Booker to provide depth behind the Nene/Okafor pairing.
Nene, 30, signed his 5-year deal with the Denver Nuggets in December 2011. The Nuggets traded out of it a little more than three months later. After three straight seasons of solid health, Nene missed nearly half of the 2011-12 lockout-shortened season, including time missed due to plantar fasciitis.
Representing Brazil at the 2012 London Olympics, Nene averaged 7.0 points, 8.0 rebounds and 1.0 block in 21 minutes per game. He sat out Brazil's fifth game of the group stage before coming back to play in the team's quarterfinals loss to Argentina.
Nene averaged 13.7 points, 7.5 rebounds, 2.1 assists, 1.1 steal and 1.0 block in his 39 total appearances in 2011-12. He holds career averages of 12.4 points, 7.0 rebounds and 1.8 assists.