Kevin Garnett: I cut ties with Ray Allen after he left Celtics for Heat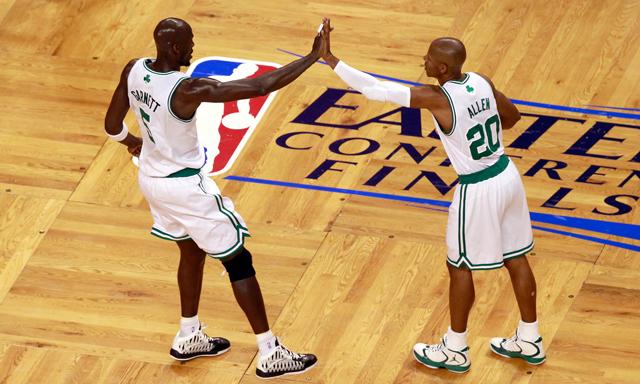 Kevin Garnett and Ray Allen might never do this again.
(Getty Images)
Kevin Garnett does not tolerate traitors.
The Boston Globe reports the ever-intense Celtics forward told reporters at Friday's media day that he no longer communicates with former teammate Ray Allen, who left Boston to sign with the Miami Heat during free agency this summer.
Kevin Garnett said he has not talked to Ray Allen since signing with Heat and has no plans to. "I don't have Ray's number anymore."
There's your early leader in the clubhouse for best 2012 media day quote.
Allen's offseason defection really is the cherry on top of one of the NBA's best current rivalries. The Heat have eliminated the Celtics from the playoffs during the last two seasons, after copying the "Big 3" blueprint that produced the 2008 title. There didn't seem to be much more pain for Miami to inflict upon Boston following their hard-fought Eastern Conference finals that went seven games. But then Allen agreed to take a 3-year, mid-level contract to ring chase in South Florida. He tried to thank Celtics fans with a newspaper ad, but his bold decision to head south was, no question, a firm twist of the knife.
What makes this particular subplot so great isn't Garnett's unmatched intensity or even that Miami is an absolutely perfect fit for Allen's sharp-shooting. No, it's that Boston did well to fill in the hole Allen's departure created by signing super-sub Jason Terry and filling out their backcourt rotation with Courtney Lee. If Boston's 2012 core four of Garnett, Allen, Paul Pierce and Rajon Rondo had to be broken up -- and it probably did, given the reported tension between Allen and Rondo -- then this was a good way for it to happen.
Rondo gets multiple weapons to work with, and Garnett and Pierce get some younger legs to help fill out the rotation. (Jeff Green is back in the fold, too.)
Storybook stuff. Even better: The Celtics and Heat open their regular seasons against each other on Oct. 30. Start your countdowns now; just don't expect to see Garnett and Allen dining together on South Beach.