LeBron James surprised that he didn't cry after winning the title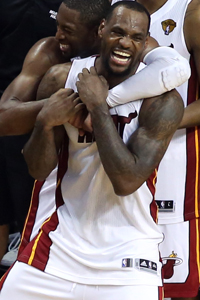 LeBron never cried over his first title.
(US Presswire)
No person in professional basketball has had more pressure on him in the past 20 years than LeBon James did last season. Coming off a Finals loss to the Mavericks on his home court, belittled as having "shrunk" from the moment following a season where he was constantly and very personally booed in every arena around the country, James faced the question of not when, but if he would reach the promised land of championship gold at all.
In the end, he answered all those questions, putting on the best performance of his career and dominating the playoffs over his final seven games. But when the champagne started flowing (and boy did it flow for Chris Bosh), James looked satisfied, ecstatic, thrilled, but never overcome. He wasn't weeping into the trophy like so many great players had done before him. Kind of surprising, right? That's what Dan LeBatard on his show in Miami thought. From Sports Radio Interviews:
I thought for sure you would start sobbing after winning the championship:

"I thought so, too. I said if I ever get an opportunity and I work toward winning a championship, I think I'm going to cry for sure. It's going to be like, wow. It was my goal and to finally accomplish that, but I think I was so happy, so proud of my team, so happy to be around all our fans, that the excitement was just too much. The excitement outweighed the tears and things like that."
via Sports Radio Interviews » Blog Archive » LeBron James Is Suprised He Didn't Cry After Winning His First Championship.
James also talks about the validation he felt in winning after so much criticism and about how there were things he alluded to regretting (without ever specifically mentioning "The Decision").
In the end, the fact that he didn't cry is probably a good thing. It would have seemed insincere and contrived; it would have seemed like he was just ripping off Jordan. James talked a lot last year about rediscovering his joy in the game, and so maybe his reaction was a fitting reflection of that.
No tears from the King, only the satisfaction of proving himself. Now all he has to do is do it again. Six times.