Sixers exercise option on Doug Collins through 2014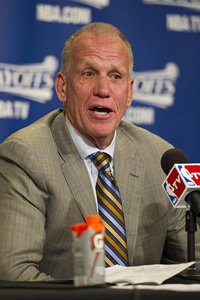 "Who's the man?"
(US Presswire)
Doug Collins took a franchise stuck in neutral and moved them into... well, at least 1st gear. They puttered their way to the second round and were within a throttle move of zooming past the Celtics and into the Conference Finals. Sure, they needed the injury to Derrick Rose, but the point is they pulled it off and actually had some playoff success.
With Rod Thorn moving towards retirement, the undercurrent in Philadelphia, even after the hiring of Tony DiLeo as general manager, is that Collins is in charge. It has been him making the strings move, including the decision to pull the trigger on trading Andre Iguodala for Andrew Bynum. It's Collins' show now. And the new ownership in Philadelphia is happy with it.
The Sixers announced Monday that they've excercised their option on Collins' contract, keeping him under wraps with the club through 2013-2014, via Ken Berger of CBSSports.com.
Collins is pretty much fully in charge of the operation now, and this just means he's formally locked up. For a man that spent so long behind the broadcast booth, Collins has really brought a lot to the organization, and even pulled off their run last spring after a disastrous second-half of the season. He's got his star in Andrew Bynum. We'l have to see if he can keep the roster mentally and emotionally, because either way the Sixers have anchored themselves to Collins.