Knicks GM: Keeping Jeremy Lin just cost too much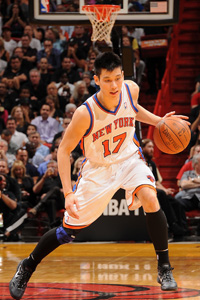 Jeremy Lin was too expensive for the Knicks.
(Getty Images)
How did things go wrong this summer for one of the NBA's richest and most extravagant franchises? Turns out, the prize just cost too much. Would you believe that?
New York Knicks general manager Glen Grunwald told reporters at Media Day on Monday that his team elected not to retain incredibly popular restricted free-agent guard Jeremy Lin because his three-year, $25 million offer sheet from the Houston Rockets was simply too rich for their blood.
"Basically, it comes down to the fact that Houston made a commitment to him that we weren't prepared to make," Grunwald said on Monday, making reference to the 3-year, $25.1 million offer the Rockets made to Lin last July. "But I'm very happy for Jeremy that things worked out for him personally and for his family and I wish him the best.

"I'm more excited for our team, the team we assembled right now. ... We're very excited and optimistic about this coming year."
It's a strange excuse from a team that has spent money like drunken sailors on lesser talents in the past and steadfastly refused to answer all Lin-related questions over the summer.
Lin will be replaced by a trio of point guards: Raymond Felton, Jason Kidd and Pablo Prigioni. Together, the trio will make roughly $7 million this year, with Felton and Kidd under contract for a combined $6-plus million each season through 2014-15 too. The problem for New York, strategically, was that they had already committed to Kidd before they saw Houston's final offer to Lin, leaving them the option of plunking down a combined eight figures per year between Lin/Kidd or trying to find a less expensive alternative.
They took the latter route, inking Felton, who was coming off a disastrous season with the Portland Trail Blazers, where he openly admitted to being out of shape and clashed with former coach Nate McMillan, who was fired midseason. CBSSports.com has learned that Felton recently weighed in at 207 pounds, significantly lighter than his preseason weight in December 2011, coming off of the lockout.
The toughest part here is that public perception is totally out of the Knicks' control now. If Lin succeeds as the go-to guy in Houston, it won't matter what Felton does in New York. Felton could rediscover his shooting touch, get all of his teammates involved, push the tempo, have a career year and get the Knicks back to the playoffs, and it wouldn't matter all that much if Lin consistently plays as well as he did during his "Linsanity" stretch last season. Redemption for this decision for the Knicks comes only if Lin falters.
That's a tough place to be, considering no one wants to root against one of last season's great stories.