Dwyane Wade leaves Jordan Brand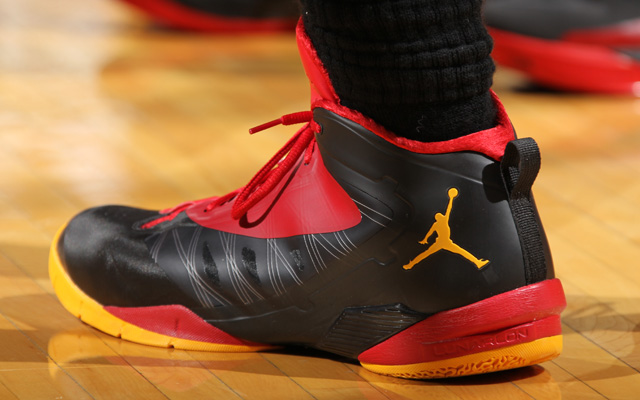 Jumpman is leaving Wade's kicks in the future.
(Getty Images)
Dwyane Wade confirmed rumors of his departure from Jordan Brand this week at practice, as Jordan Brand released its own statement regarding the mutual parting of ways between the megolith brand and the Heat star after nine years. From Fox Sports Southwest:
"I just really can't comment on my new deal,'' Wade said. "I did mutually part ways with the Jordan umbrella, with Jordan and Converse. I had a great nine years, but we have mutually parted ways, and I'm moving on.''

Wade said he's "not disappointed'' at leaving the Jordan Brand. But he did acknowledge having had a chance to work with Jordan, the Bulls star Wade grew up idolizing in Chicago.

"It's just the time,'' Wade said. "We just went our separate ways. But I still feel honored to have represented my favorite player of all time and his brand and the opportunity I was given.''
via Wade cut ties with Jordan Brand.
And from BizJournals.com:
"The Jordan Brand and Dwyane Wade have mutually agreed to end our relationship," the Jordan Brand said in a statement Tuesday. "We wish Dwyane well as he continues his career."
via Dwyane Wade no longer part of Jordan Brand - Portland Business Journal.
As stated above, Wade won't comment on who it is that he's moved on to to cover his feet. Oh, wait, what's that, Shane Battier?
"Welcome Dwyane to the Chinese shoe family,'' Battier said. "It's good to have my fellow brother over there.''
via Wade cut ties with Jordan Brand.
Oh. ESPN NY has been reporting since Saturday morning that Wade is headed to Chinese company Li-Ning, joining Kevin Garnett and of course Battier with overseas deals. Evan Turner of the Sixers also has a deal with Li-Ning.
Personally, I'm just sad we won't get any more of those special agent commercials with Kevin Hart that of course lead to the Heat getting beat by a team not on the list.