Nike officially introduces LeBron James' latest signature sneaker, LeBron X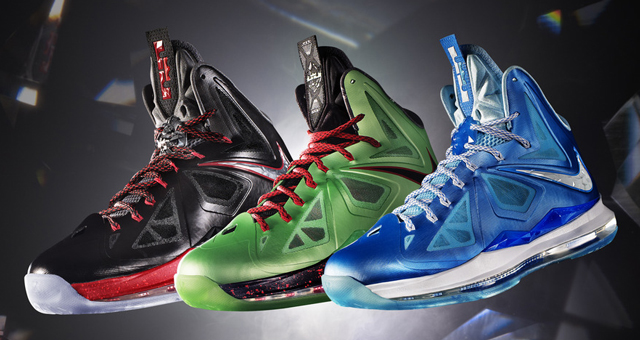 There are three versions of the LeBron X, LeBron James' latest signature Nike shoe.
(Nike)
They don't even cost $300. Who would want these?
Nike officially introduced Thursday the latest iteration of Miami Heat All-Star forward LeBron James' signature shoe, the "LeBron X." The sneaker, which comes in standard and technology-enhanced versions, made national headlines in August when a report indicated that the "Nike Plus" model could retail for as much as $315.
At the time, Nike called that "inaccurate." Indeed, the Nike Plus model of the shoe is selling for $270. The base model will cost $180. Both are high points for sneakers that James endorses.
Inspiration for the shoe comes from diamonds.
"Every diamond tells a story," James says in a Nike video ad. "They are unbreakable. The hardest substance known to man, yet one of the most beautiful. Over billions of years, deep in the earth, extreme heat and pressure turns carbon into diamond. Heat, time and pressure, three things I definitely relate to, and inspiration for my 10th Nike shoe."
Here's Nike's pitch for James' footwear, which comes in multiple colorways, as shown above.
Heat, time and pressure are three things James has faced, and they act as the shoe's inspiration. Although a refined diamond is beautiful, it takes work to get there -- it starts as a dull rock. Over time, it gains clarity and sharpens with multiple facets.

Each colorway of the LEBRON X has a unique story. The blue diamond colorway is symbolic of the blue tint diamonds gain from interaction with electricity, which can be paralleled to James' electric style of play. The cutting Jade colorway is inspired by the Chinese art of cutting jade using diamonds. The story continues throughout the season with multiple colorways linked to the diamond.
The "Nike Plus" version of the LeBron X allows the sneaker's owner to track his or her quickness, vertical leap and explosiveness, according to a Nike ad released this summer. Sensors in the shoe relay information to a Nike smartphone app using Bluetooth technology.
"Quickness, hustle, vertical, Nike Plus basketball tracks them all," James says in the advertisement. "How high you jump, how quick you are and how hard you play. So you can compete against your friends, your rivals and yourself, every time you play. Nike Plus basketball allows you to see your game like never before."
The price hike for the sneaker comes on the heels of a career year. James, 27, averaged 27.1 points, 7.9 rebounds, 6.2 assists and 1.9 steals on his way to his first NBA title and his second Olympic gold medal. He was also named 2012 NBA MVP, 2012 NBA Finals MVP and named to the 2011-12 All-NBA first team and the 2011-12 All-Defensive first team.
James and the Heat open their preseason against the Hawks in Atlanta on Sunday. Miami plays its season opener against the Boston Celtics at home on Oct. 30.