Hornets begin talk of shutting down Eric Gordon for preseason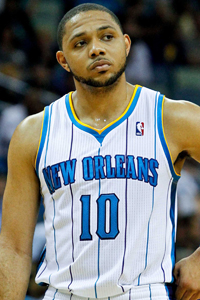 Gordon might miss the preseason.(US Presswire)
The Hornets have maintained since last season that shooting guard Eric Gordon's knee was going to be fine. It held him out almost the entire year last year and has been a problem in preseason. The Hornets first announced he'd be held out two weeks because of soreness in the knee in the opening week of training camp. He was expected to be available for the last few preseason games.
Now, the conversation is starting to change. From the New Orleans Times-Picayune:
But Williams said Sunday that Gordon could miss the final three preseason games because he is not in appropriate conditioning due to the missed time caused by his sore knee. Williams said there's also a chance power forward Jason Smith could miss the remainder of the preseason after injuring his shoulder in a practice last week. Gordon has missed all five preseason games, while Smith has played in only the preseason opener against the Orlando Magic.

"I don't see them playing in the next couple of games, maybe not anymore in the preseason, Williams said. "It is not ideal, but it is the situation that we have. Jason is still feeling pain. Eric's got to get his condition up; that's what he's working on now. But he's doing more and more every day. He's doing a lot more drill work with the team and he's in all the huddles. He's more engaged each day."
via New Orleans Hornets shooting guard Eric Gordon could miss remainder of preseason | NOLA.com.
Gordon is pivotal in pretty much every way for the Hornets. It's not just the max contract that they matched for him this summer. It's that Gordon is the centerpiece of the offense. Without him, their backcourt is going to have huge problems after the trade of Jarrett Jack.
Gordon still seems to be extremelly close to making it for opening night. But the fact that it's a knee that keeps bothering him -- and he has had so many repetitive problems -- has to raise the blood pressure of Hornets fans.
We'll keep you updated if Gordon makes a preseason appearance.