The Baseline Awards: Preseason Edition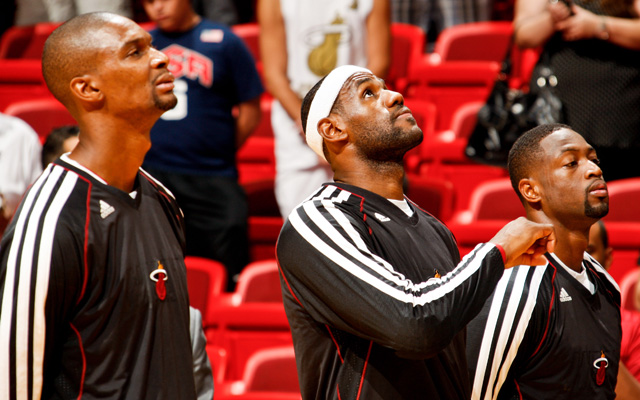 The Heat have been quiet this preseason.
(Getty Images)
The Baseline Awards celebrate the best and worst from the week that was. In this edition, we look back at who's looked good, who's looked great, and who hasn't looked so hot in the preseason. Follow CBSSports.com's Eye on Basketball blog on Twitter and like us on Facebook.
Another season is set to tip off in a little over a week, and as we mercifully wrap up the preseason, we wanted to hand out some awards for what we've seen. This is preseason, so these should be taken as the most non-impactful. This is more an observational post than anything.

"The Quiet Man" Award for most understated preseason for a champ.

The Miami Heat.

You realize how few stupid things that LeBron James said in the last month? Seriously, we keep a pretty close eye on those because you people eat it up like Popeye with "hisk spinskachs." And James hasn't gotten himself in any trouble. The report about the Lakers didn't come from his camp, and he shot it down. No spouting off about multiple titles or about the Lakers. Just doing their thing.

The biggest Heat story out of camp was Ray Allen vs. Boston. Have we entered a new era in which LeBron and the Heat are no longer magnets of controversy? If so, I will be simultaneously relieved and disappointed.


The 'Moulin Rouge' Award for most over-the-top preseason

Los Angeles Lakers

Everything the Lakers did or said at training camp was reported by about 200 people daily. Their media day was better attended than the Chinese Democracy tour. And I'm not criticizing it; I was part of it! When Dwight Howard debuted Sunday night, I was glued to my seat watching everything that went on with the team in a preseason game.

It's interesting because the Heat were overhyped and reviled for it, and the Lakers are overhyped and revered for it. Strange how that works.


The 'Jared From Subway' Award for offseason conditioning

Enes Kanter

The conditioning stories from preseason are the best. "He gained 15 pounds of muscle." "He's in the best shape of his career." "He feels the best he has in years."

But Enes Kanter took it a step further, telling reporters that he had balooned up to 290 pounds before losing, wait for it, 51 pounds. He lost a third of a normal person! But what's actually been more impressive than the weight loss for Kanter has been what he has gained. He looks like a much smarter player, more court-aware and in control on the floor. The second-year man looks like a beast for the Jazz and creates even more of a logjam of great frontcourt players for Utah.


The Nate Robinson Award for best out-of-nowhere performance in an exhibition season

DeQuan Jones

Averaging 10 points per game for an undrafted free agent out of Miami, where he was far from a star, Jones has a great shot at actually making the roster. Especially when he keeps doing stuff like this:



The Carlos Boozer/Monta Ellis Honorary Award for Dumbest Injury

Kevin Love

He was at least doing something athletic, working out and working on his knuckle push-ups, but it's just not the way you want to lose six weeks of your season. You never want to lose six weeks of the season, but if you're going to, you don't want to go out with everyone wondering "Wait, he hurt himself how?"

I wouldn't say it's embarrassing, but not his proudest moment.


The Dallas Mavericks Honorary Award for most "Nobody believes in us!" outrage from fans

Co-winners: Portland Trail Blazers, Philadelphia 76ers

I wind up wondering if their fans are watching the same team that I am. As if there is some sort of alternate universe where Portland's bench has quality rotation players, Jason Richardson is still relevant and playing Spencer Hawes and Kwame Brown together is a good idea.


The Hitchiker's Guide to the NBA Award for team most loudly chanting "Don't Panic!"

Dallas Mavericks

It's not just that the pieces haven't looked like they fit, or that the young talent hasn't looked outstanding. It's that Dirk Nowitzki's out, and a team with a whole new roster has to figure it out quickly to stay afloat.

It's preseason, there's no reason to panic, but you can't help but come away from certain teams and raise your eyebrows quietly over your newspaper and pipe. The Mavericks are such a team.


Your All-NBA Preseason Team (first-team selections are weighted by minutes, hence Jack over Rondo)

PG: Jarrett Jack
SG: Klay Thompson
SF: Jeff Green
PF: Luis Scola
C: DeMarcus Cousins

Second Team:

PG: Rajon Rondo
SG: Nick Young
SF: Danilo Gallinari
PF: Jared Sullinger
C: Enes Kanter