Kobe Bryant's sore foot will keep him out of final two preseason games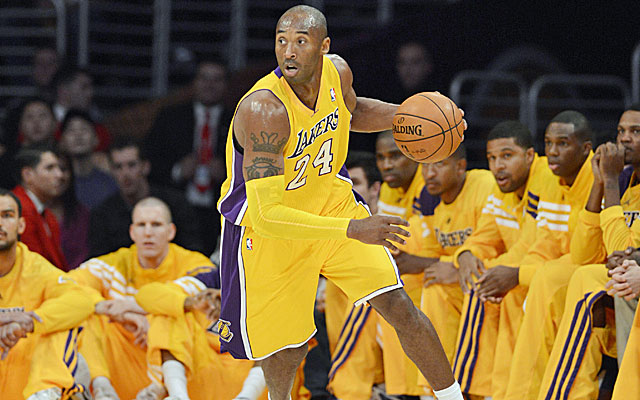 Kobe Bryant hurt his foot in the Lakers' preseason game against the Sacramento Kings. (US Presswire)
Update 6 p.m. ET: The Lakers announced Kobe Bryant will miss the rest of preseason with a foot strain. Judging by his comments, don't worry about him for the season opener, but he's done until Tuesday.
Via ESPN:
Bryant is being held out of the Lakers' final two preseason games due to a sore right foot and will be evaluated over the weekend, according to a team spokesman.

Bryant's injury is classified as a strain, and he is out indefinitely. However, Bryant reported some improvement in his foot to team officials prior to Wednesday's shootaround.
The "indefinitely" part is of course concerning, but Bryant would play through an amputated leg. I'm pretty sure he'll be on the floor against Dallas Tuesday night.
-------------------------------------------------------
Something is afoot with Kobe Bryant. Actually, that should read that Kobe Bryant's foot is hurting him.
Bryant hurt his foot in the Lakers' preseason game against the Sacramento Kings this past Sunday in the third quarter, when he got tangled up with Thomas Robinson. Kobe was cutting through the lane, tripped over Robinson's foot and came away with a "bruised and strained right foot."
When Kobe met with reporters after Tuesday's practice, he informed them of the severity of the pain. (Via Los Angeles Times):
The injuries are starting to mount for Kobe Bryant, as they often do.

He is expected to miss Wednesday's exhibition against the Clippers because of a bruised and strained right foot, his third and most serious injury since training camp began three weeks ago.

Bryant was in a dour mood when he met with reporters Tuesday, saying he was "pretty sore" and would not play Wednesday even if it was the regular season.
Between Dwight Howard's back rehab, Jordan Hill's herniated disc and Kobe's foot, the Lakers are fairly banged up right before the season has even started.
What surprised me the most about this is the injury didn't look that severe at the time. The fact Kobe said he'd miss a regular-season game over it is pretty telling just how much pain he must be feeling.
Over the last seven seasons, Kobe has only missed 24 games, and 17 of those have come in the past three seasons. That's still a pretty good measure of Bryant being somewhat of an iron man when you consider his age (34) and the amount of contact he endures.
He'll have six days to rest and do some light training to stay in shape before the Lakers make their season debut Oct. 30 against the Mavericks.