Andrew Bynum will start practicing with the Sixers, eventually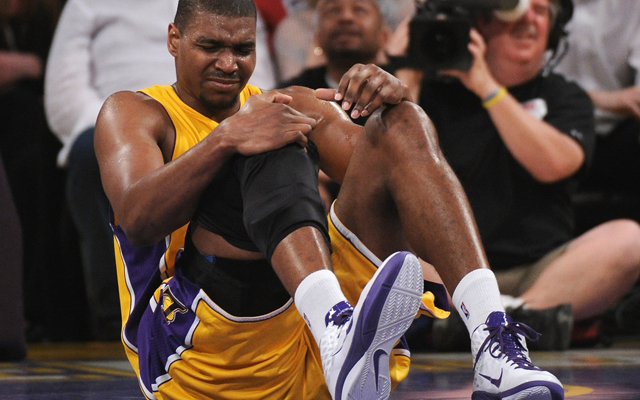 When will Andrew Bynum's knee finally be ready for the Sixers' new big man to practice?
(Getty Images)
Andrew Bynum seemed ready to start practicing with the team, and there were reports that he might be able to begin as early as Wednesday. All signs indicated Bynum was healthy enough to start working again, according to CSNPhilly.com.
Could Bynum finally join his new teammates in practice this week? Possibly. That will be the focus as the regular season approaches.


Bynum was scheduled to have a Synvisc injection on Monday, which is a natural substance used in the treatment of osteoarthritis as a lubricant and cushioning aid for joints. The injections are fairly common for players in the NBA, and generally a player gets one when it's time to ramp up the workload.
However, Dei Lynam of CSNPhilly tweeted that the Sixers' new big man back was not ready to get back into action on Wednesday.
Bynum out until he is pain free says. Dileo. No running yet.

— Dei Lynam (@dlynamCSN) October 24, 2012
Tom Moore of Phillyburbs.com tweeted that "Bynum experienced discomfort doing a drill and stopped at that point."
This is discouraging news for those hoping to see Bynum in his new role as the franchise player for Philadelphia.
While many of us have been giggling at the thought of Doug Collins thinking it's a good idea to pair Kwame Brown and Spencer Hawes together as a frontcourt option, it's definitely a lot more enticing to see what the Sixers look like on the floor with Bynum anchoring the team. The team acquired Bynum and a handful of shooters to surround him, as they transitioned from the Andre Iguodala era to a new direction for this team.
Before the move, the Sixers were a good team with a low ceiling and no superstar. Now they have the potential to develop a superstar in Bynum and give their team an identity with a much higher ceiling.
From the CSNPhilly.com post, Collins seemed cautiously optimistic about Bynum's return for the season opener on Halloween against the Nuggets.
"A lot of that is going to be how he responds to increased activity," Collins said when asked if Bynum would be ready for the opener. "I know how important the home opener is, but we're not going to do anything silly and have another setback where it costs you and now you have to miss those kinds of games."
Sadly, it appears that discomfort could keep him out of the first game of the regular season. He's not ruled out completely. But if he's not even able to run and do drills without stopping, it's probably best not to hold your breath until he returns.