The story of Ray Allen vs. the Celtics: a digital history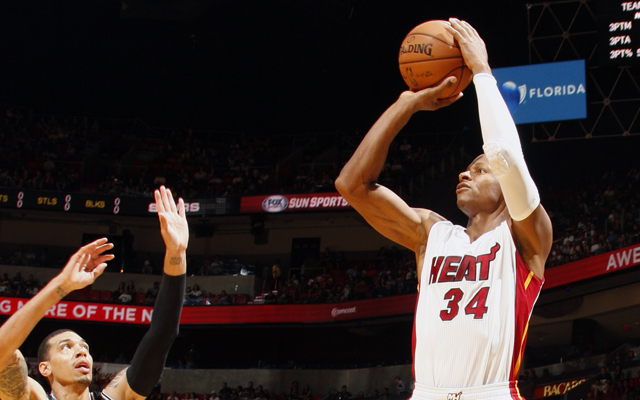 This will be personal.
(Getty Images)
The Heat host the Celtics to open the 2012-2013 NBA season Tuesday night, and the Celtics will get to watch as the Heat hoist the banner from a Finals Boston was one win from attending. It will of course also be the first game for Ray Allen in a Miami uniform against his former comrades in green. We'll have much more on the game Tuesday afternoon and evening, but we wanted to provide you with a little perspective on how this situation has come about.
Here then, is the digital history of Ray Allen vs. the Boston Celtics.
It began... with an ending.
June 9th, 2012:
And a celebration:
June 21st, 2012


Then, a return.
June 30th, 2012:
According to an NBA source and a source close to Garnett, the sides are working out the details of a deal that will be for at least two years and could possibly include a third.

"The decision came down to whether KG wanted to keep playing," said one source. "And once he decided that he did, it was going to be Boston. He wasn't going to leave Doc (River) and those guys and play anywhere else."
via BostonHerald.com - Blogs: Celtics Insider» Blog Archive » Garnett set to return to Celtics.
And so it would be, the Big 3 would return to Boston, for another run at a title. Or so it was assumed.
But, there were rumors.
June 11th, 2012:
Allen conceivably could return to Boston, but Mannix said that decision might be affected by Allen's apparent struggles to get along with Rajon Rondo.

"I think there's no question that the relationship was strained over this year," Mannix said. "How strained is the key, and it's still a little bit unclear. There was some friction between those two. I think that could play a role in Ray's decision not to come back. Now, I agree, I think that Boston probably wasn't going to bring him back anyway, you're right, it's Avery Bradley's job and Ray isn't coming back to the Celtics to be a bench player, especially when he can be a bench player on a team that might be more likely to win a championship. But I think the relationship over the last year between Ray Allen and Rajon Rondo soured. Now, I'm not entirely clear as to how bad it got. But certainly I know that there was some legitimate, palpable friction between those two players and I think that will ultimately affect his decision in free agency."
via Mannix on D&C: Ray had 'friction' with Rondo.
July 3rd, 2012:
The Boston Celtics' hopes of keeping Ray Allen will have to wait a few days.

The 36-year-old free-agent guard will visit the Miami Heat on Thursday and the Los Angeles Clippers on Friday, according to a source, and listen to their pitches.
via Source: Heat, Clips, Grizz Pursuing Allen « NBA.com | Hang Time Blog.
There was disbelief, of course. Especially from the fans.
June 28th, 2012:
I dunno, maybe Ray will join the Heat, but that would fly in the face of everything we've heard about him. If he wants to start, it won't happen in Miami. And if he wants to be paid fair value, it won't happen in Miami. If he wants to chase championships and be a hired gun? THAT will happen in Miami.

And that's his right. I won't begrudge him that. He's a free agent and he'll have every right to join whatever team he wants for whatever reason. Call me nuts, but I think there are other places Ray can get what he's looking that work for his family.
via Report: Ray Allen will sign with Heat | Red's Army - The Voice of Boston Celtics Fans.
And, I mean, the money:
Source: Celtics willing to double (in terms of $) Heat offer to Ray Allen. Will give 2 years/$12 million. Heat can offer only $3 mill a yr

— Chris Broussard (@Chris_Broussard) July 1, 2012


And the family, and the history, and his family, and everything. Surely, he wouldn't.
And then he did.
July 7th, 2012:
Its 2:30am in London and I was just woken up with great news.Welcome to the family #20!!

— Micky Arison (@MickyArison) July 7, 2012
July 11th, 2012:
Any prayers or hopes that it might not actually be true are gone, Boston. Ray Allen has officially signed with the Miami Heat.

The most hurtful thing was that Allen actually took less from the Heat than what the Celtics were reportedly offering. Allen signed a three-year deal for just under $10 million while Boston was offering $12 million over two years.

"You come into the summer, and you don't know what potentially can happen," Allen said at his introductory press conference Wednesday via the Associated Press. "And you take the process a step at a time, try to figure out what's best for you and your family. And here I sit."
via Ray Allen signs with the Miami Heat - CBSSports.com.
There was shock.
July 7th, 2012:
"I was shocked, I see Ray as a Celtic," summer league head coach and Celtics assistant Tyronn Lue said. "In this business you have to do what's best for you and I guess he thought Miami was best for him. I just wish him well. But seeing him change uniforms is pretty big, seeing him around here so long."
via Danny Ainge, Celtics move on after Ray Allen departure - Sports - The Boston Globe.
And then, of course, there was bitterness.
It's going to be a little weird, but Ray made the best decision for him. You get in free agency and you make a decision that's best for you and your family. Ray will always be a brother to me. If it wasn't for him I probably wouldn't be wearing a championship ring.

MM: Have you talked to him since his decision?

A couple texts… I'm a little bitter that he went to Miami but he's still a brother of mine.
via Paul Pierce: I'm bitter… but Ray Allen will always be a brother to me | Red's Army - The Voice of Boston Celtics Fans.
From there it got ugly.
September 28th, 2012:
Kevin Garnett said he has not talked to Ray Allen since signing with #heat and has no plans to. "I don't have Ray's number anymore."#celtics

— gary washburn (@GwashNBAGlobe) September 28, 2012

September 13th:
BET: Have you talked to Jesus? Have you talked to Ray Allen, man?

Rondo: Oh, that guy.

BET: Ohh.

Rondo: I talk to the Lord.

BET: You say you what?

Rondo: To the Lord.
via Rajon Rondo refers to former teammate Ray Allen as 'that guy' - CBSSports.com.
It has devolved into a war of words, with Doc Rivers talking about Allen's slide in production, and Allen talking about not being wanted back. Extensively.
"Two years ago when I was a free agent, the whole organization sent me a text asking me to come back," Allen said. "This time it was a little more subdued."

This time, while Pierce and Garnett texted their support and Ainge initiated the dialogue at the stroke of midnight, Rivers stayed out of the negotiations. Their relationship, once strong, faltered in Allen's final months wearing Celtic green.

"Doc never called and said, 'We want you to come back,'" Allen said. "I can't say I expected him to do that. It's hard to say what the protocol is in those situations."
via Ray Allen left Boston Celtics despite no-trade clause on table - ESPN Boston.
Allen said that, at the time, Ainge and Rivers "didn't get along" with Rondo.

"So, I called him and I told him, 'hey they're supposedly trading us to Phoenix because you and Danny and Doc don't get along,' " Allen said. " 'So, whatever you can do.'

"So, for some reason, I guess he thought that I was … that I had something against him, or there were some issues. And I had no issues with him. I won with him."

Now, Allen says if Rondo "had issue with me, that's on him."

"I have a way of going about doing my job that, I want everyone to come and play their hardest and come in and do their job and I can't, I don't worry myself with things I can't control," Allen said.
via Green doesn't matter to Miami Heat's Ray Allen - Miami Heat - MiamiHerald.com.
And on Tuesday night, the Celtics will watch the banner rise into the arena where their season ended, and King James will get his ring. Allen will be there across the introductions line, and there will be a healthy hate in the air.
The feelings are complex, there is still love on both sides, but that's what makes the most intense rivalries so peronal, so deep. You can't really have a rivalry until it becomes personal. It's personal.
"I'm going to walk over and say, 'What's up?'" he said. "Those guys are my brothers."

Ray has exchanged a few preseason texts with Pierce, and although he's heard nothing from KG, that means nothing, he said.

"I'm always going to be a Celtic no matter what," Allen said. "It's always going to be in my veins. Once you live there and play for that team and win a championship, it doesn't matter where you go. You're always going to be a Boston Celtic."
via Ray Allen plays down his rift with the Boston Celtics - ESPN Boston.
This is one game. But it's the start of something way bigger. Because once again, both sides want one thing, which they cannot share.
"I never believed that anybody is ever defending a title, because that was last year," he said Monday, according to ESPNBoston.com. "[The Heat] don't own the trophy this year. That's what I tell our guys: Miami isn't considered anything. They won the title last year. You don't give your trophy back -- that's in boxing, where you get the belt back. That's defending the title. You win a new title."
via Doc Rivers Says Heat 'Don't Own the Trophy' as Celtics Take Aim at Miami in NBA Title Pursuit - Boston Celtics - NESN.com.