Eric Gordon unsure if he can return this season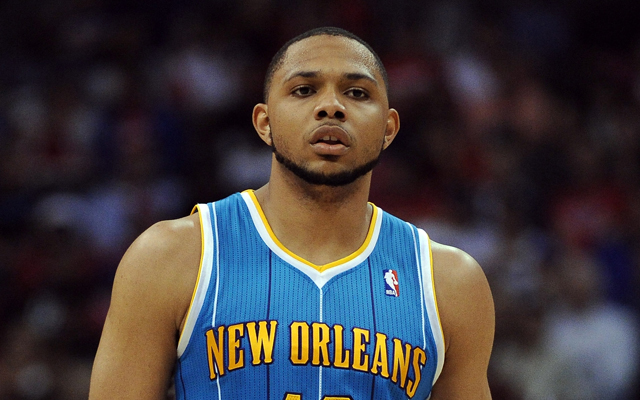 Eric Gordon has a confusing situation. (Getty Images)
Wednesday, Hornets coach Monty Williams made a bizarre statement regarding Eric Gordon. The short and long of it is that Gordon is out "indefinitely" with continued soreness in his knee. That wouldn't necessarily be weird on its own. But Williams talked around the fact that essentially the Hornets doctors have told the coaching staff there's nothing structurally wrong with him. But Gordon is unable to play.
It takes a lot for a coach to even approach throwing his star player under a bus. Williams didn't toss him over, but he's definitely nudged him into the street a bit. The Hornets PR staff ushered Gordon away Wednesday before he could speak to the media, further confusing the issue. On Thursday, Gordon spoke to the media. From Hornets247.com:



From NOLA.com:
"I'd say sorta," Gordon said. "From talking to the doctors, from when I last told you guys in September until now, I have had a little bit of a setback as far as this injury. Nothing structural, but it has been a little bit of soreness and swelling to where I'm only listening to the doctors and they can see and tell that it's been a little damage.

"I've had MRIs, and I went to the team and they've always been aware of my injury. I have had MRIs lately, so I'm looking forward to seeing what's happening this weekend to see what's furthermore. .. . I will hear what the doctor's thinking this weekend."
(via New Orleans Hornets guard Eric Gordon says he experienced setback in recovery; doctors see possible damage but he'll know more this weekend | NOLA.com)
This situation is getting uglier by the minute. New Orleans media is going after the bone, and the impression being given is that Gordon is healthy enough to play and choosing not to. That doesn't seem to characterize what we know of Gordon at all, and it seems unlikely for any player, no matter how much he wished for the Hornets not to match his max offer from Phoenix last summer.
But the statement doesn't seem to make any sense. He has structural damage, but there hasn't been? He's looking forward to getting back, but he may miss the season? The Hornets desperately need him back for this season, and if he's gone for the year, that's a massive investment a fourth of the way down the drain for a rebuilding Hornets team.
Gordon clearly is in a lot of pain and struggling enough with it to talk to reporters, even if not everything is out there. This situation is becoming more bizarre with every update.