The Inbounds: Kobe Bryant, a new kind of assassin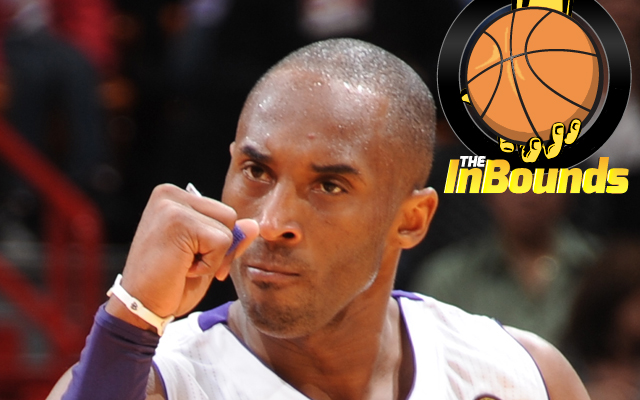 One bad man.
(Getty Images)
So the Lakers got off the schneid Sunday night, toppling a helpless Pistons team, 108-79. The Lakers lead by 21 after the first quarter and never looked back. So they are, in fact, not the worst team in the NBA. The story remains fascinating -- despite their tremendous abilities, the Lakers' record is 1-3. The win against the Pistons will not quell questions about their start.

It was, after all, the Pistons, who look very much worse than the team who recovered from a similarly terrible start last year to remain competitive down the stretch. This proves that the Lakers, when pushed to the brink, are not worse than Detroit. This was the breaking point. Had the Lakers lost to the Pistons at home for their fourth straight loss, it would have touched off absolute chaos. Cats and dogs living together, mass hysteria, that type of thing.

And this is not to discount the win. The Lakers were dominant, controlling, explosive. Even without Steve Nash, out up to four weeks with a hairline frature in his leg, the Lakers blew the doors off Detroit. Dwight Howard was a beast inside. Early foul trouble did not stop him on his way to 28 points and seven rebounds. Pau Gasol continued his early season efficiency and brilliance. The Lakers ran the floor, caused turnovers, converted at the other end.

More than one person noted that this game seemed to go away from the Princeton offense more than any other. The Lakers were let out of the box, so to speak, and the results did, in fact, speak for themselves.

But there's maybe an even more positive sign that has erupted over the first four games of the new-look Lakers.

Kobe Bryant has been brilliant. And I use that word a lot but, in this case, I mean it. He has been like Fisher with a chessboard, Einstein with a chalkboard, Da Vinci with canvas. He has been a master of his craft.

Any discussion of Bryant, on any level, about anything, sparks controversy. I can already hear certain fans screaming, "He's always been brilliant!" And while you can make that argument should you not be particularly mindful of efficiency over the past two years, you will also hear the cries of, "Sure, he's been great. Look at the talent around him!"

So intead, for a moment, let's detach ourselves from Bryant's history. Let's forget whatever we think of him as a player, as an ego, as a person, as a Laker, as a challenger to MJ's throne, and let's instead consider a hypothetical. Let's pretend Bryant was just some superstar who switched teams. No one divisive, no one explosive, no one with a ridiculous nickname ripped off from "Kill Bill" just your average, run-of-the-mill All-Star.

You would think this player has found the system that he has been looking for his entire life.

The knock on Bryant has always been this: he isolated against two to three defenders, and tries to go "Kobe mode" or "Mamba Mode" or "Hero Ball," but often it's simply "incredibly stupid shot mode." He would get his team into trouble, and there would be conversations about him having to do what he could because of how bad the offense was or how that's part of having the confidence of a champion or something else. In reality, it was just bad basketball.


I've long held the same opinion of Bryant. In 2009 and to a degree in 2010, he played phenomenal basketball. The scoring was beautiful, his post work tremendous, but it was his passing and playmaking. He was using that incredible talent to always make the right play. The truth is Bryant's on-court play seems to deteriorate with his confidence in teammates. It's not that having bad teammates made him a worse player; having worse teammates enabled him to make the decisions, which led to him being a worse player.

And just as we can't consider four games a conclusive judgment on the Lakers' season, neither can we use it to definitively say this is the Bryant we're getting this year.

But the results have been tremendous. In the midst of an offensive system no one seems to believe in but them, Bryant is having an incredible start. Not just in performance, but how he's doing it.

It would be one thing if Bryant were doing what he has always done while shooting 60 percent from the field, 52 percent from 3-point land and 95 percent from the line. But let this rattle around your head.

According to Synergy Sports, in 2010-11, Bryant spent 30 percent of his possessions in isolation, shooting a solid 44 percent. In 2011-12, that number stayed right up there at 29 percent of his plays in isolation, shooting just 35 percent. Through four games in 2012-13, Bryant has spent just 20 percent of his time in isolation and, in those sets, is shooting 65 percent. It's just 11-of-17, so there's a long way to go.

But the point is more this: Bryant is doing what people -- even Lakers fans -- have asked for years. He's working to find more efficient ways to score. He's cutting off-ball and shooting quickly when he has the space. He's spotting up. He's posting up, and he's getting out in space. The attention paid to the other stars on the team is drawing open opportunities, and Bryant is playing that way. He's not grinding the game down into a one-on-five game every time down the floor. It's not about trusting teammates; it's about trusting the total system.

Maybe the system's gotta go because the Lakers' offense overall has been subpar (though the defense has been a bigger worry). But we're seeing a more efficient, less-ball-stopping, more dynamic weapon in Bryant. And that's only going to improve when Nash returns.

Bryant's chasing more than another ring this season. He's chasing immortality with a team that is very much built for legend. But in the early part of this season, he's not trying to do it his way, and that is bringing the best out of him.

Which is the worst thing possible for the rest of the league as far as the Lakers are concerned.