Varejao back, Waiters questionable, Zeller up in the air for Cavs Friday night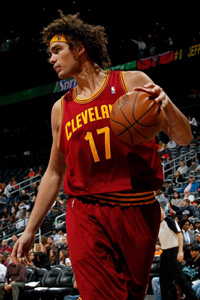 Varejao could return Friday.
(Getty Images)
Cavaliers center Anderson Varejao sat out Wednesday's game against Golden State with "soreness" in his knee, but is expected to make his return Friday night vs. Phoenix according to the Akron Beacon-Journal. But now the Cavs have another problem, as rookie wingman Dion Waiters suffered a deep thigh bruise Wednesday and is questionable Friday night.
Tyler Zeller, who suffered a fractured cheekbone and a concussion this week, could return to the court Friday, but the Beacon-Journal reports Sunday is more likely. If a guy has a concussion, only missing one game is sometimes pretty dicey. You have to imagine he'll be fitted with a mask too, to protect the cheekbone.
Phoenix is a good test for the Cavaliers, a team in their tier that has struggles on both sides of the ball. Like the Cavs, Phoenix has won two games, but like the Cavs it's difficult to see if those are outliers or if the losses are more indicative of the situation.
Getting Varejao back is huge, as he's obviously the team's second-best player. Waiters has been a bit of a rollercoaster, hitting huge shots from time to time and then putting in inefficient performances. The Beacon-Journal reports he couldn't put weight on the leg, the bruise was so bad, so don't expect to see him vs. the Suns.