Hornets' Eric Gordon activated against Bobcats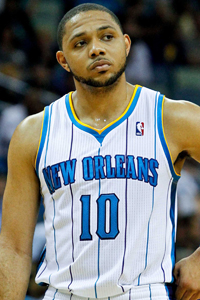 Gordon is back. (US Presswire)
As expected, Eric Gordon is finally back for the Hornets.
The team announced Saturday that Gordon has been activated for the Hornets game against the Bobcats. He's expected to play.
Gordon has missed all 29 games this season for the Hornets and has only played in nine games total for them since being the centerpiece in the Chris Paul trade.
Gordon is recovering from patella tendon disorder and a bone bruise in his right knee that required surgery last season.
Gordon said in November he was unsure if he'd be able to play at all this season. As recently as Dec. 7, Gordon was said to be without a timetable, but he's obviously improving.
After being acquired, the situation with Gordon has been a tense one in New Orleans. The frustration around his injury has been the central theme, but between signing a max offer sheet with the Suns that he publicly hoped the Hornets wouldn't match, to the tension with the organization about his health, Gordon's time with the Hornets has not gone well at all.
But he's a vital part of their rebuilding plan, and with him the Hornets have a pretty good young foundation. With the Hornets, albeit in just nine games, Gordon averaged 20.6 points and 3.4 assists per game. Combine him with Anthony Davis, Ryan Anderson, Austin Rivers and Al-Farouq Aminu and there's certainly something there to be optimistic about.
It's not just his health, though. It's his mindset, and as frustrating as this injury stuff has been, it's opened up a lot of issues with the organization as both sides have clearly felt the pressure. The team has been bad, and Gordon hasn't been much of a help.
Getting him back, though, is the first step to going somewhere. He's clearly one of their franchise cornerstones and they signed him to a max deal to be a critical part of their success.