Nightly Grades 1.8.13: Pacers control Heat as Rockets roll Lakers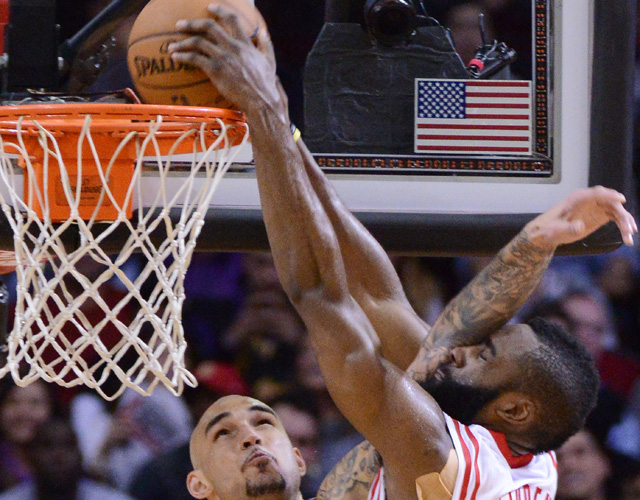 Not so much with Sacresanity.
(Getty Images)
Each night, Eye on Basketball brings you what you need to know about the games of the NBA. From great performances to terrible clock management the report card evaluates and eviscerates the good, the bad, and the ugly from the night that was.



| | | |
| --- | --- | --- |
| | Pacers defense | Miami's mighy offense was felled Tuesday night, held to just a 92.9 offensive efficiency by the swarm of the Pacers' defense. Yes, the Heat missed open shots, but the Pacers ground them down by constantly badgering their dribble and pursuing every rotation. The Pacers' bigs controlled the glass and held the Heat to a miserable performance. |
| | Houston's offense | Balance, spacing, and explosive ball movement to find the open man, especially by James Harden and Jeremy Lin. Just look. |
| | Winning after a coach resigns or is fired | Post-Avery-Johnson, check. Post-Mike-Brown, check. Post-Scott-Skiles, check. I'm telling you, if a coach gets canned, mid-season, mortgage your house and put it on his former team (if you live somewhere gambling is legal and choose to do so responsibly). Milwaukee beats Phoenix by nine. |
| | Brooklyn Nets | Another dominant win, and they blew the doors off Philadelphia in the third quarter. Deron Williams with another terrific game and Reggie Evans beasted on the glass. Quietly, Brooklyn's become a monster. |
| | Miami Heat | This was supposed to be a statement game where Miami showed that they can flip the switch, and instead they fell on their face. Dwyane Wade played well, LeBron was fine, Bosh did his thing. But the non-Big-3? 11 points. Eleven. Points. Fail. |
| | Los Angeles Lakers | The initial push where they jumped out to a ten-point lead actually makes this worse. They fell apart quickly and were completely overwhelmed in the second half. Robert Sacre did not save them. The misery continues. |