4-Point Play: Melo vs. the Truth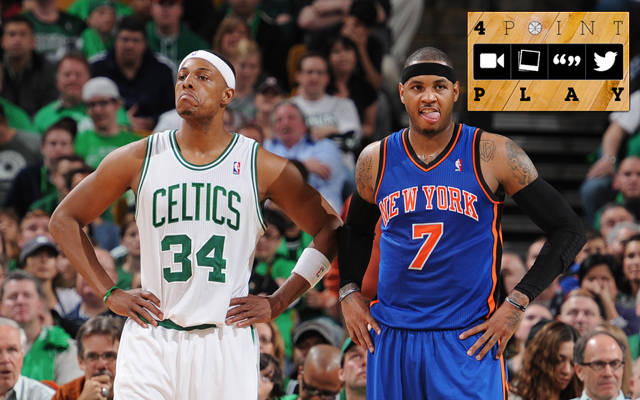 Get your motor running.
(Getty Images)
There will be one dominant storyline when the Knicks visit Boston on Thursday night. Carmelo Anthony is set to face a world of vitriol in TD Northbank Garden after he blew his top vs. Kevin Garnett last time and tried to confront him in the locker room. There will be a lot of cereal boxes, but there also will be a lot of pressure.

The Celtics have played the Knicks about as well as any team in the Melo era. Anthony has averaged 28 points and six rebounds against Boston since heading to New York but has also shot just 43 percent against the Celtics.

In their last game, Anthony's emotions clearly got away from him. And while the attention will be on the matchup between Anthony and Garnett, it's crucial to see how Paul Pierce does in matching Melo's offense. The key for both guys? Patience.



Melo loves isolation. Loves it. Just adores taking his guy one-on-one. And against 80 percent of the league, that's a good plan. But against the Celtics, he got into a bad habit of rushing himself.


Notice how quickly he's going into his shooting motion. Melo's a patient player. And while he has a quick release, if he's rushing to get into it, he's going to mess with his stroke. The Celtics' defense has been a mess this year systemically. But if you allow them to guard you one-on-one, that's an area in which they can excel.

(Side note: Notice how close Avery Bradley is when he guards that shot. How does he not commit a foul there? It's incredible. And if the Celtics put Bradley on Melo, Melo needs to use the rip-through, despite it being harder to get called, to clear space and/or draw calls on Bradley.)

Now, watch when he's a little more patient. If we're going to abandon the hope of Anthony running in sets and staying out of isolation, and we need to, he needs to maximize his opportunity. Here, he settles in a bit more and the results are what makes Melo so good.



This is why Garnett getting Anthony's blood going can be a bad thing. Cold anger helps you win games with determination. Hot anger like this can affect your shooting efficiency. Of course, a nice way to fix that is by using sets and space to actually create mismatches or open looks. A novel concept, I know, but the results are pretty good.


Finally, the Celtics do have a fighting chance here in one-on-one coverage, and it comes from an unlikely place. Jeff Green.




Green might not have nearly the advantage of last time, but Pierce has fallen off dramatically in his lateral foot speed and elevation. Green has the body to handle Melo's raw strength and to contest him on the jumper. Anthony will still get his -- he's Carmelo Anthony. But if the Celtics can get him into isolation after isolation trying to prove himself to Garnett or Boston or who knows what, and keep his points per possession under 1.0, Boston will take that all day long.

It should be noted that Pierce gets into the same problem with rushing himself.



So both teams need to settle down, and they need to run their sets. But this will be a game filled with macho feelings and a lot of swagger. So you can expect the hearts to overcome the heads. From there, it comes down to make or miss.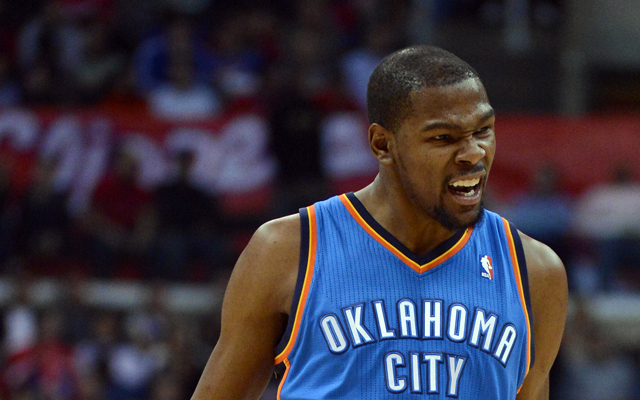 KD had a phenomenal week.
(Getty Images)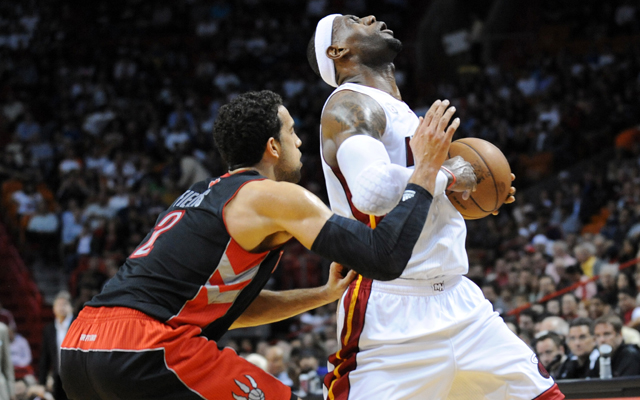 This seems like a problem, LeBron.
(Getty Images)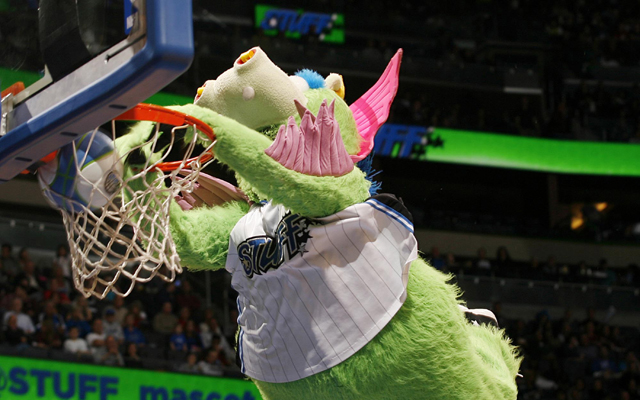 What IS this thing, anyway?
(Getty Images)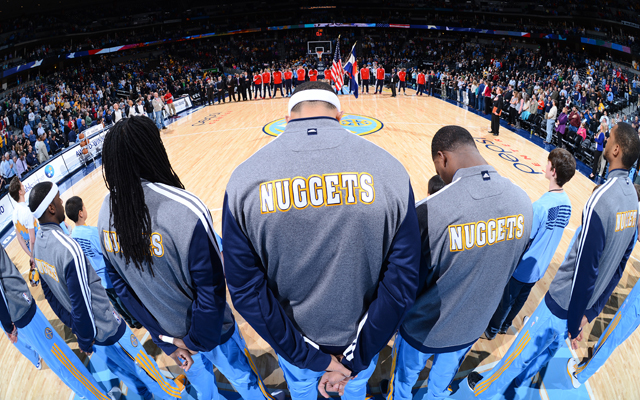 The Nuggets have been standing tall lately.
(Getty Images)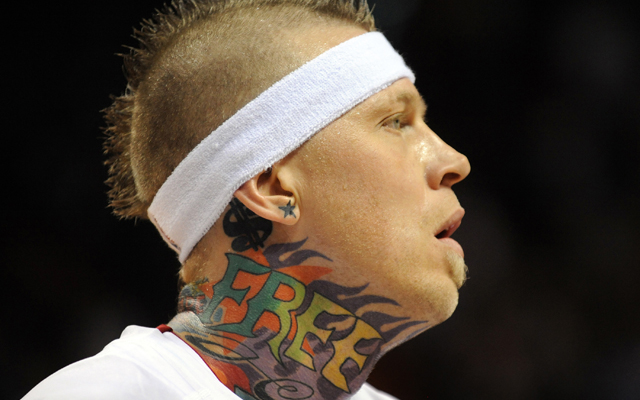 The Birdman flies again!
(Getty Images)

"It has to be a priority for you. You have to be able to be in every trip down, every possession mentally. I think that's hard for a lot of guys. Experience, awareness, but mostly it's just committment." -- Thunder F Nick Collison on the key to great defense in the NBA
"The speed of the game has really slowed down for me. We're getting our team back, our whole team back. I'm trying to make better reads, and things just fall into place." -- Wizards rookie Bradley Beal on his improved play.
"I'm my biggest critic, so I'm going to critique myself hard. But at the same time, it's fun. I'm 19, I'm in the NBA, I'm getting minutes. A lot of guys in the NBA don't have the opportunities I have. I'm just taking full advantage of it. I'm loving it." -- Beal on getting on a roll in the NBA as he has lately.
"J.J. Barea's a flopping guy, so I tried to give him a taste of his own medicine. I hope I don't get fined, though." -- the Nets' C.J. Watson on J.J. Barea's flopping via the NY Post.