LeBron James wants credit for taking less money in free agency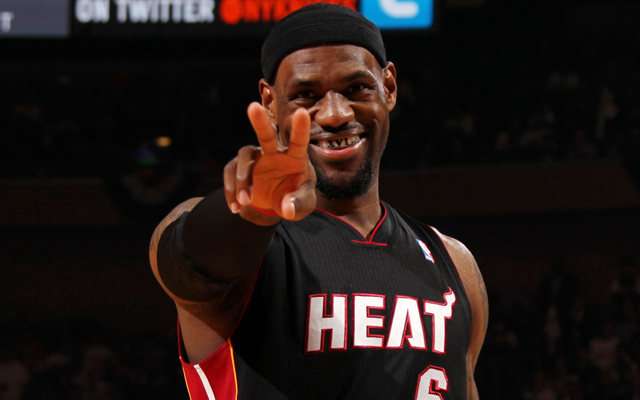 He thinks he's underpaid. Cool story.
(Getty Images)
It had been a while since LeBron James said something phenomenally stupid to the media, even if just from a public relations standpoint. I can't say I missed them, but it is nice to visit something so familiar, like that person from high school you didn't really hang out with, but occasionally took chemistry notes from.
All of this is to say LeBron is back in action!
In an interview with ESPN regarding the nature of super teams and how the new CBA could end all that, James decided to talk a little about something he feels he's not getting enough credit for. Only taking a new max deal that pays him $17.5 million this season. From ESPN:
"What I do on the floor shows my value. At the end of the day, I don't think my value on the floor can really be compensated for anyways because of the (collective bargaining agreement)," James said Friday before the Miami Heat's game with the Indiana Pacers (7 p.m. ET, ESPN).

"I have not had a full max deal yet in my career -- that's a story untold," James said.

"I don't get [the credit] for it. That doesn't matter to me, playing the game is what matters to me. Financially, I'll sacrifice for the team. It shows for some of the top guys, it isn't all about money. That's the genuine side of this, it's about winning. I understand that."
OK, couple of things. Break out the bullet points:
James is right here. He just is. Any analyst will agree that because of the luxury tax, James is unbelievably underpaid. Baseball players' phenomenal amounts of money relative to their actual impact on the game is proof of that. There has been study after study done to show James is massively underpaid relative to his standing, and especially so relative to his production.
He's also right that he didn't take the max. He did leave money on the table to join the Triad in Miami. It's easier for him, because of his endorsements, but he is willingly making less money than he could in order to help the team be better.
James should never say any of this.
This is so much a lose-lose it should be called a lose-get-beaten-with-PR-whiffle-bats situation. He can't look good here. He says he takes less money, he's perceived as ungrateful for the $17.5 million he makes just this season, let alone the other five years of his deal, gauranteed.
He says he doesn't care about it, but why do you bring up something if you don't care about it? That's the issue here. It's not what he thinks, but how he portrays himself.
He says he's underpaid, he's insulting the millions of Americans who are underpaid relative to their value and don't enjoy everything that goes along with being LeBron James. It's not fair, but it is what it is.
I'm not mad at James, I'm not insulted by James, I don't think less of James. But I understand why people do. This is why talking about money never benefits anyone.