Mitch Kupchak says Lakers are happy with D'Antoni, not making a trade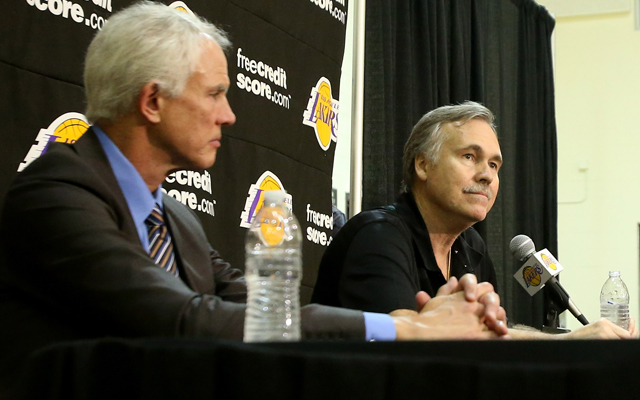 Lakers GM Mitch Kupchak says the Lakers will stay the course with Mike D'Antoni and the current roster.
(Getty Images)
When things aren't going well for the Los Angeles Lakers, the implication is that something must be done. Five game winning streak? Trade for someone. Slip in offensive production? Trade for someone. Team struggling in total? Fire the coach. Team still struggling after firing the coach? Fire another coach.
But at some point you just have to stop and say "This is it. This is the ship and if we go down, we're going down with it." Lakers GM Mitch Kupchak is making that exact statement in a conversation with Newsday. Kupchak says they're "very" happy with Mike D'Antoni, and no trades are coming.
"We're very happy with Mike D'Antoni," Kupchak said. "I think when he took the job I think he thought Nash [fractured left leg] might be out a week or two. Not two months. Getting everybody on the same page took a little longer than expected. Not to say it's been smooth sailing, that's for sure."

Asked about his remaining options to salvage this season, Kupchak said, "We will not make a trade. We will not trade Dwight Howard. We have no intention of making a trade. It's unlikely that we'll make any trade with any of our principal players. To make another change at this time of the year being behind the eight-ball like we are, I think that would just make it more difficult. The talent is there. We have to find our way."
(via LI native Mitch Kupchak having rough season as Lakers' GM)
I'll pause so you can make your "they will now fire D'Antoni and trade everyone" jokes.
And it's certainly possible. Kupchak doesn't telegraph his moves. The Howard trade was revealed early, but that was on account of Howard's team being unable to keep a secret. Do not let his agent or cousin/manager work in national intelligence, is all I'm saying.
But Kupchak doesn't reveal things. So while he said earlier in the year that there might have to be changes, things have stabilized somewhat. The Lakers are playing better, they just have a lot of ground to make up. Trades aren't going to solve anything. It'll just create more pressure and more challenges to get everyone on the same page. It's time to just trust in the superstar roster they have assembled to make things right.
They can do that.
Right?