Report: Spurs are leaders to trade for Al Jefferson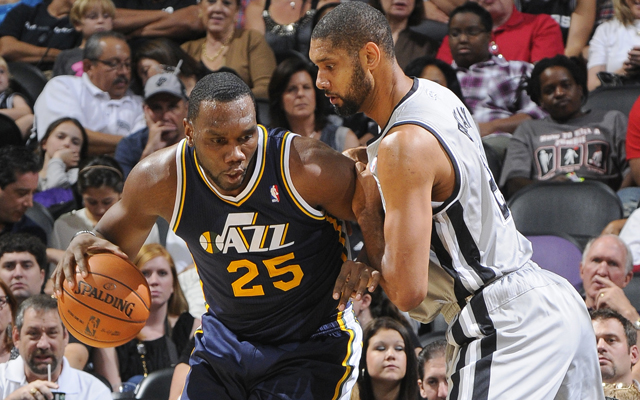 The new dynamic duo?

(Getty Images)
SheridanHoops.com reports that the San Antonio Spurs are the "leader" to trade for Jazz C Al Jefferson, and it isn't close.
Here is the latest they are telling me: The San Antonio Spurs are the front-runners to land Al Jefferson in a trade with the Utah Jazz – and they are frontrunners like Secretariat was in the 1973 Belmont Stakes.

Here's why, followed by a how.

"Those teams are practically incestuous, they are on such good terms internally," one NBA source told me Wednesday.
(via Al Jefferson could be traded to San Antonio Spurs by Utah Jazz)
Former Spurs assistant GM Dennis Lindsay is the current GM in Utah working with Kevin O'Connor, so that one's pretty obvious. Sheridan reports that the deal would involve some combination of Patty Mills, Tiago Splitter, Stephen Jackson's expiring contract, and various stashed assets for San Antonio. But in many ways, this would be a simple "We can't/won't afford him in free agency, and if we're sending him anywhere, we're sending him there" deal.
Jefferson is an unrestricted free agent this summer and likely to fetch top dollar as a star center in his prime. He's honestly the only center I would trust with the ball in the post inside of five minutes in the fourth in a close game.
Splitter makes sense as a backup for Enes Kanter, and Mills can play a little bit at a position of need for Utah. But this would also indicate that the Jazz intend to keep fellow soon-to-be-unrestricted-free-agent Paul Millsap, who reports just days ago indicated was the one the Jazz were going to trade.
The conflicting reports at least indicate that the Jazz are taking offers on the two, and that maybe, finally, the Jazz will trade one of the two big men and make room for their younger guys. File that one under "things we've been saying for three years."
Jefferson woud make the Spurs a title contender ... which they already are. He's a problem defensively, but the Spurs' system is already covering up for multiple poor defensive players. He and Duncan would form an incredible 1-2 low-post tandem, and allow the Spurs to punish teams inside and out even more than they do now. It would be a rare big deadline move for San Antonio, whose only notable move in years past was the Stephen Jackson trade last year, which was a low-risk move for them to get Richard Jefferson off the books.
Jefferson's going to change the NBA landscape in significant ways over the next six months, one way or another.