Chris Bosh, Ray Allen out vs. Clippers, Dwyane Wade will play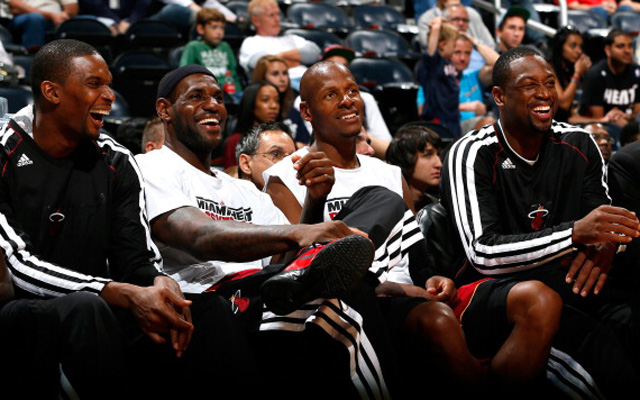 It's all fun and games till the fever shows up.
(Getty Images)
Update 7:22 p.m. ET: The Heat announced Friday night that Chris Bosh and Ray Allen will miss the game with flu or flu-like symptoms. Dwyane Wade will play vs. the Clippers. With the Clippers back at full strength, we'll see if LeBron and a sick Wade can carry the load.
Disease spreads pretty easily in NBA locker rooms. You're in close quarters with a lot of sweat involved. You share bus rides, plane rides, taxi rides and sometimes hotel rooms. Things get around. Like the flu. And apparently that's what happened to the Miami Heat.
And now the Heat might be short-handed when they play the Los Angeles Clippers on Friday night.
Chris Bosh has missed time this week with the flu, and great news! He passed it on to his star teammates.
Chris Bosh (flu), Ray Allen (flu-symptoms), & Dwyane Wade (not feeling well) all missed this morning's shootaround.

— Miami HEAT (@MiamiHEAT) February 8, 2013
Typically the term "flu" is used to describe "hangover" in the NBA but in this case, it's likely legit. The flu's been a nationwide issue, and the CDC reports its status has been elevated this flu season.
We saw another illness make the rounds in early fall. You can expect this to start affecting other locker rooms soon. Or maybe all that swooning and light-headedness is just All-Star Weekend and trade-season related.
LeBron James is not reported to have any issues at this time. We assume that's because he's not human.