Kevin Garnett: 'If it's up to me, then I'm going to retire a Celtic'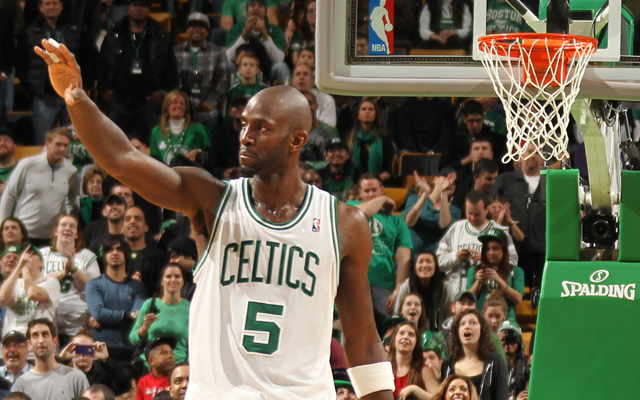 Garnett says he's a Celtic for life.
(Getty Images)
The trade deadline is closing in (13 days!), which means the rumors and speculation are going to reach a boiling point soon.
With Rudy Gay already dealt, most of the questions are now circling around the Celtics and if they will pull the plug and start over following the injury to Rajon Rondo.
Most of the chatter has centered on Kevin Garnett, who is signed through 2015 (the last year is non-guaranteed) and owed $12.3 million next season. He's 36 years old and clearly the kind of guy who expects to finish out his career competing titles.
But with the Celtics slipping this season and the injuries piling up -- along with Rondo, they recently lost promising rookie Jared Sullinger for the season -- it's natural to assume and believe Boston could move a major piece like Garnett.
He has already reportedly said he would not waive his no-trade clause for a deal to the Nuggets. But to reaffirm his loyalty to Boston, Garnett publicly dismissed any kind of trade talk. Via ESPN Boston:
"On a last note, I just want to say that I love my situation here," Garnett said. "I don't know what y'all sources or whoever's making up these bull---- --- articles about me getting traded to Denver and all these other places. But I bleed green, and I continue to do that. And if it's up to me, then I'm going to retire a Celtic. So I just want everybody to know that, all right?"
The "if it's up to me, then I'm going to retire a Celtic" part is very key because, again, he has a no-trade clause. Meaning, if the Celtics agree to send him anywhere, that first has to be approved by Garnett. And he's not normally a guy who says one thing and means another. Garnett has always been a very straight shooter, someone you can take at his word.
There have been other reports that Garnett would only approve of a deal to either the Clippers or Lakers, with the stipulation that Paul Pierce goes with him. Who knows, though.
Celtics president of basketball operations Danny Ainge also said the same thing, that the Celtics won't likely move Garnett, or Pierce, at the deadline despite good reasons to.

"Yeah, I think that's by far the most likely thing. Sure," Ainge said, via ESPN Boston. "I'll just repeat what I always tell you guys -- the things that are out there are the things that aren't true, and the things that are happening are not being reported."
(Necessary note: Just because Ainge said that doesn't make it true. He has shot down trade rumors the last few years, but it was widely known Boston tried to move both Ray Allen and Pierce at different times.)
The Celtics have recently found new life following the injury to Rondo, winning six straight to rise to seventh in the East and 26-23 overall. It's not likely to be sustainable, especially in the postseason. But with the good vibes of winning happening in Boston, don't plan on Garnett to be packing bags on deadline day.