Report: Lakers will not add free-agent big man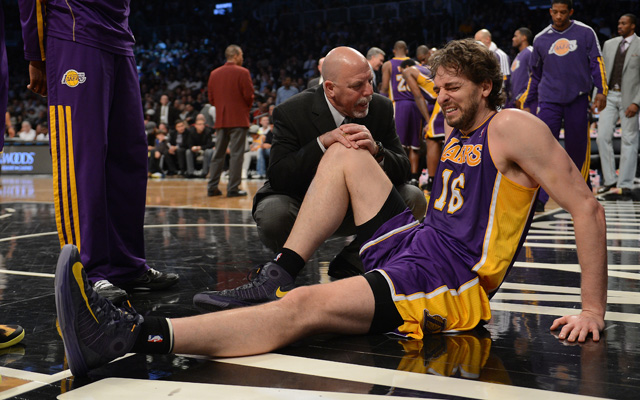 After Pau's injury, the Lakers are short on bigs.
(Getty Images)
To file under the "colossal understatements" collection, the Lakers' season has not gone well.
There has been every manner of screw-up, bad luck, and dramatic interlude in a season that was supposed to be filled with the majesty befitting the most popular basketball franchise on the planet. But apparently, the Lakers aren't keen to try to pull off any sort of big maneuver to change the tone of the season. From ESPN:
The Los Angeles Lakers have no immediate plans to add a free-agent big man to help fill in their suddenly depleted front court, a source told ESPNLosAngeles.com on Monday. The Lakers have been discussing their options since Pau Gasol suffered a tear in the plantar fascia of his right foot. The situation is still being evaluated, and much depends on how much Dwight Howard is able to contribute with his injured shoulder, but for now, the Lakers are sitting tight.
(via Lakers not looking to acquire a big man - Los Angeles Lakers Blog - ESPN Los Angeles)
There aren't really many good options. Kenyon Martin continues to hang out there, but there's a reason no team has gone in pursuit of the veteran, neck-inked bruiser. From there the Lakers would be looking at a D-League pickup, and those have been in short order this season.
The Lakers are without Pau Gasol, of course, after he tore his plantar fascia earlier this month. But the Lakers are also missing Jordan Hill whose season was cut short by a hip injury. Their rebounding and defense have suffered, but then, those were problems prior to the injury.
The best addition they can make? Getting Dwight Howard as close to full strength as possible. Him sitting out the All-Star break would help that, but he doesn't seem to have much intention of doing so. The Lakers, as they have since the disasters began this year, will just have to make do.