Retiring David Stern names his favorite NBA All-Star memory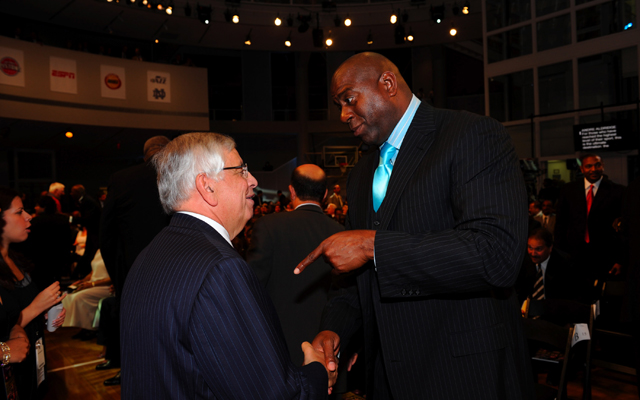 Stern named his favorite All-Star memory.
(Getty Images)
HOUSTON -- David Stern is overseeing his last All-Star Weekend as commissioner of the NBA. Something he almost seemed giddy about.
"Praise the Lord," Stern interjected in a question that began by mentioning this is his last event.
This is the 37th All-Star Weekend for Stern -- his first came in Philadelphia in 1976 -- so he's been part of a lot of incredible moments and memories. His favorite, though? Handing the All-Star Game MVP to Magic Johnson in 1992.
"I would have to say my favorite memory actually compounding and growing to the present day is awarding Magic Johnson the MVP trophy in Orlando," Stern said. "Giving sweaty Magic Johnson a big hug right after he hit the last 3, and still being able to hug him, because he's alive, every time I see him.
"That is at the top of the list. And it will not easily be dislodged. Even though I do enjoy every All-Star, that one will resonate for the rest of my life."
It came up in a different question about Cleveland hosting another All-Star Game, but Stern also named his second-favorite memory, something that involved the city in 1997. That night the league honored The 50 Greatest, bringing them out on the floor for an incredible collection of talent.
"As executive producer of that moment, I would like to say that that is a close second, but not quite," he said. "To get those 49 guys, and we knew it was the last time we were ever going to get them together like that, and to put them, in effect, in a uniform through a jacket of the team that they represented, that was a big thrill, too."