Jordan Turns 50: A complicated relationship with the idea of MJ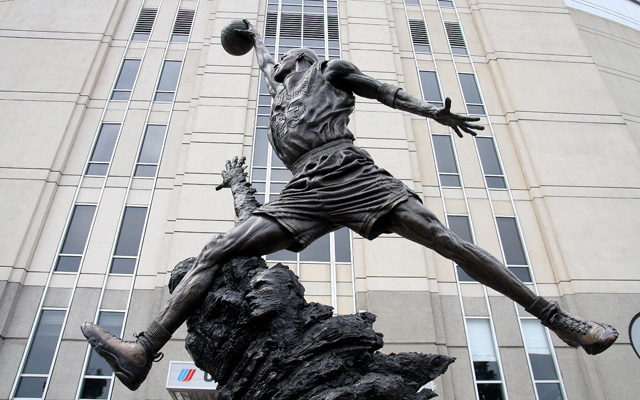 The man, the myth, the legend turns 50 Sunday.
(Getty Images)
I'm not a Jordan guy.
This is as much a primer for our discussion as it is a disclosure. I recognize Michael Jordan without question, hesitation or caveat as the Greatest Basketball Player of All Time. It is unquestionable, and for someone who typically is optimistic and complimentary about this current era of stars, it says something that I feel no one will ever topple Jordan from that pedestal.
You cannot love basketball and not be left in awe of what Jordan did. But I was never a fan of his; I pulled for those Sonics, those Rockets, those Suns, those Pacers when I was growing up on basketball. Jordan's game never resonated with me the way it has so many. Having written about the game professionally, I now have more appreciation of Jordan's game than ever.
But we're at a weird intersection in time from an approach of looking at the idea of Jordan from an analytical perspective. Old media was around for his run and will never forget how he changed what they thought was possible. Much of new media were kids when he was coming up. Observers who are usually skeptical and rational about the game lose their minds when a construct of criticism toward Jordan or his Bulls comes up. Why? Posters were hung on walls, shoes were tied to feet and "Space Jam" had Bill Murray.
And then, of course, there are the contrarians, with whom I do not wish to belong. I come not to bash Jordan (happy birthday, by the way), but to examine him. Or rather, to examine how he fits in with us, and how we fit in with him.
As Jordan turns 50 this weekend, and the world goes crazy over it, we need to look not only at the man, the myth and the legend, but our relationship with Jordan as an idea, and as a figure.
--------------
LeBron James and Kevin Durant are locked in one of the most compelling MVP races of all time. Kobe Bryant is desperately trying to win his sixth ring. We have two star-studded teams in New York, two in LA, one in Miami. Derrick Rose will be returning soon. Kyrie Irving is a phenomenon in the making.
And all we're talking about this All-Star Weekend is Michael Jordan.
Think that's a coincidence? Think it's entirely because his Airness turns 50 Sunday? Think the media just drummed this up on its own to get page views, us included? You're partially right. But don't think for a second that the Greatest Of All Time doesn't know what he's doing, doesn't know how this is playing out -- oh, and make sure to remember that this is the way he wants it.
On Friday, an excerpt from an interview to air Monday on NBATV was leaked, in which Jordan chose Kobe over LeBron James, if he had to pick one. His rationale was that "five is greater than one," referring to championships. The unspoken part of that? Six is greater than five. But even then, Jordan has been dealing with the media since he was 17. You don't think he knows how to gracefully get out of that question?
"They're both great players, and I think how they're carrying on the legacy of this sport is incredible, even if they may never reach the top." Then MJ would wink and we would all swoon.
That's all it would take. Jordan refused to endorse a political candidate because "Republicans buy shoes, too." But give him an opportunity to not only vault himself into the headlines in advance of him hitting the halfway-to-100 mark, but provide a reminder that no one in this era is in his class? He'll take it like a pull-up jumper.
Yahoo Sports reported over the weekend that his old trainer, Tim Grover, is ready with a "binder" full of plans to get Jordan in game shape if he decides to play at 50. Odd timing, that.
Michael Kidd-Gilchrist said over the weekend that Jordan beat him one-on-one.
And Jordan chose to celebrate his birthday in Houston at the Museum of Fine Arts. Makes sense, all his friends are in the NBA, there are business reasons to be there, and it's one huge party. But it's more news he's making. This weekend's biggest story was not the trade deadline, or the high competition this season or Kobe trying to cling to his last chances at true greatness.
It was about Jordan.
And that's as much about us, as it is about him.
There are several narratives when we talk about Jordan: his game, the business, the rise of the NBA, the rise of basketball players as brands, the stardom that extended beyond sport, the idea of sport as art, the effect of an inexhaustible will to win.
But hidden behind that, in recent years, has been the harsh reality of what comes after that shot over Bryon Russell. The photos of parties with young women. The continued bristling at anyone who ever crossed him. The mom jeans. The terrible personnel decisions, first with the Wizards, then with the Bobcats. And a Hall of Fame speech that left more than a few awkward silences in our midst. It was like discovering Superman was the kind of guy who cuts in front of old ladies at the store.
We moved past it, though. We've moved past all of it, and we'll continue to move past whatever we need to.
We need Michael Jordan. We need the idea of Michael Jordan.
We love that Jordan still rises to the challenge when asked about players who could have competed with him. He said in an interview this weekend that James couldn't have succeeded then as much as he does now, in his era. Not "he wouldn't be better than me," not "it would be more difficult." He basically turned him into Dominique Wilkins or Clyde Drexler (who were pretty awesome, by the way).
If the Lakers miraculously get the water out of the boat and sail to Bryant's sixth title, Jordan's tune will not substantially change. There will be no begrudging element of respect, no admission that Bryant has climbed the same walls. There will be talk of how much harder his era was. There will be talk of how he was the guy and Bryant needed Shaq. And I'll bet LeBron will come back into the picture.
Because Jordan can't lose. He couldn't lose his spot in varsity. He couldn't lose out on a starting spot in college. He couldn't lose to the Pistons, again, the Lakers, again. He couldn't lose to Jerry Krause and Jerry Reinsdorf. He couldn't lose to age, exhaustion and a failed baseball run. He couldn't lose to the Jazz.
Jordan is still fighting all these battles. Taking shots at Bryon Russell and Pat Riley in his Hall of Fame speech, taking shots at LeBron James in his best season ever. Taking shots at today's era. He refuses to simply sit back and be satisfied as the greatest of all time. That competitive fire is still burning, even though the world is out of kindling for him. He won't rest on his laurels, even when that's all there is left for him to reasonably do.
He's still fighting, and people love him for it.
The question is, "Why?" You can't really argue this is the graceful way to go. Bill Russell is an incredibly prideful man (read his book on Red Auerbach). But Russell has become a mentor to the young players, the wise grandfather of the game. Magic Johnson and Larry Bird were as fierce a pair of competitors as there ever has been. They speak demurely about today's athletes, and about Jordan himself. Bird famously stepped aside as the face of the league during the 1992 Olympics, saying it was "Michael's time." Jordan never did that. He didn't have anyone to hand off to, but he never did that.
And again, we love him for that.
So as we spend the weekend celebrating the greatest basketball player of all time, we need to realize that he's out there for a reason. He'll always be out there, reminding us that we need to bow to the throne, that these current magicians are just casting illusions, that he could still take us if he wanted to. (I think 28-year-old Jordan could check LeBron James because of his quickness vs. James' handle, but let's cool it on the idea the 50-year-old can make a run at this thing. Some of us remember those Wizards years).
And we keep eating it up. In life, as a society, we value compassion. We value respect, sportsmanship, class and a desire to help those who come after us. But with Jordan, we feed him as he feeds us. We encourage the bloodlust, and he gives us the bones to hold up in tribute.
It's a vicious, nasty relationship. And maybe that's what makes it sport.
Happy Birthday, Mike.