Celtics are not trading Rajon Rondo -- at least that's what they're saying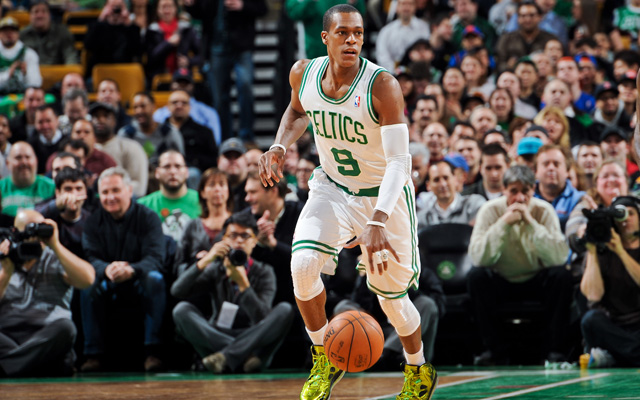 Rondo's off-and-on trade market rumors persist depending on who you talk to.
(Getty Images)
Saturday, Ken Berger of CBSSports.com reported that the Celtics and Lakers had discussed a trade involving Rajon Rondo and Dwight Howard in recent weeks. There were subsequent assertions that Rondo's ACL injury removed him from those trade talks. Then, on Wednesday morning, Rondo re-entered and departed trade speculation in a matter of hours.
First, ESPN reported that "rival GMs" were insisting that Rondo was still available. Other sources indicated that Rondo had continually been shopped.
Then, Rondo's agent, Bill Duffy, contacted USA Today Sports:
Boston Celtics President of Basketball Operations Danny Ainge is a good listener, and league executives continue to call Ainge about point guard Rajon Rondo's availability even though Rondo is out for the season with a torn ACL, an NBA executive told USA TODAY Sports.

The person spoke on the condition of anonymity because he was not authorized to speak publicly about ongoing negotiations.

Yet according to Rondo's agent, Bill Duffy, Ainge said on Wednesday that Rondo will not be traded.

"He was emphatic that they would not trade Rajon Rondo," Duffy told USA TODAY Sports. "He said, 'We love him, and he's our guy moving forward.' Everybody is tradeable, and there's always a bunch of dialogue with every player in the league who doesn't have a no-trade clause, or LeBron James and a few other guys. In this particular case, Danny Ainge was emphatic that 'we are not trading Rajon Rondo.'"

Ainge also said on Tuesday that the Celtics aren't in the market for a major deal.
via NBA trade scenarios as we close in on deadline.
Wait, a GM told an agent that he wasn't trading the agent's star client? I'm shocked. Shocked, I tell you.
To his credit, Ainge has repeatedly said publicly he's not trading Rondo. If he has been honest, you have to feel for him. That has to be frustrating when people constantly report about something you've tried very hard to stamp out. On the other hand, if it was one reporter indicating that Rondo was available, it would be one thing. Most major sources are hearing the same thing.
He's out there for the right price. But that's the hang-up. From Berger of CBSSports.com:
I'm told the "right deal" for Rondo would be: Dwight Howard, Chris Paul or a massive haul of assets like Denver got for Melo. Not happening.

— Ken Berger (@KBergCBS) February 20, 2013
Yikes! I'd have to agree that's not happening. Rondo's out there but only to try to make a major move for one more run at a title or a long-term addition as the new face of the franchise. Those guys aren't out there.
We're putting Rondo in the "won't be traded" category.