Report: Andre Drummond could return in 'a week or so'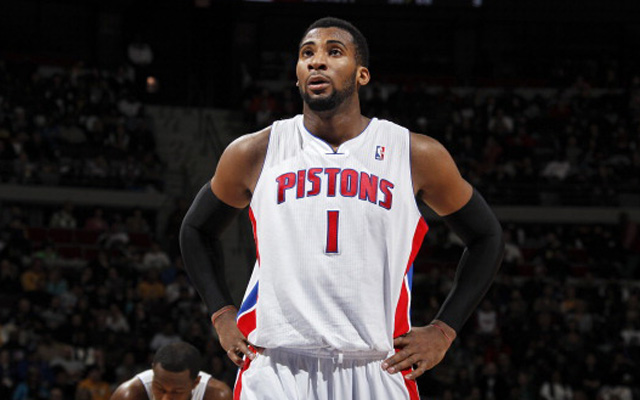 Andre Drummond suffered a back injury this month and was expected to miss four-to-six weeks. But it looks like he'll be back in the Detroit Pistons lineup sooner. From the Detroit Free Press:
The news also was good concerning Drummond, who suffered a stress fracture in the fifth lumbar vertebra in his back. The team designed a brace, and Paolucci said he has progressed to the point where he could be ready to hit the court within a week or so.

The original prognosis on Feb. 8 was for Drummond, a center/forward, to be out at least four to six weeks.
(via Pistons' Brandon Knight may play tonight vs. Hawks | Detroit Pistons | Detroit Free Press | freep.com)
Pistons Blog Piston Powered doesn't feel the need to rush Drummond back:
The Pistons have been difficult to watch while Andre Drummond has been out, but they're improving their lottery position. Drummond makes this team better right now, and while I want to see a better product on the floor, I have the patience to realize more losses this season are helpful.

More importantly, the Pistons should wait until Drummond is completely healthy for no other reason than he's essential to Detroit's future and it's in the team's best interest he can play as much as possible in future seasons.
(via Andre Drummond could return within week « PistonPowered)
Thing is ... Detroit's six games back of the eighth seed, which is a lot, I'll grant you. But Philadelphia's in a tailspin, Toronto is very uneven night to night, Milwaukee is nearly schizophrenic, and Boston has more players injured than healthy at this point. There's a window.
Would making the playoffs and getting swept do much for them? No, but it might do as much as getting a 10-plus lottery spot. If they try for it and miss, they still have an outsider's chance at a top-three pick. If they make it, they've given the fans something to actually care about.
I'm all for tanking, but the time's not quite right. And who knows, if Drummond gets back and Lawrence Frank actually plays him, good things could happen.