Reports: Wizards 'open' to including JaVale McGee in trade talks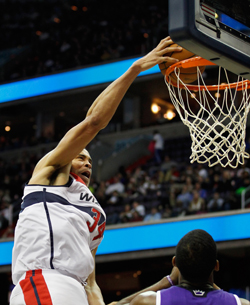 Washington is reportedly softening its stance on center JaVale McGee.
(Getty Images)
How do you even begin to put a price on an enigma like Washington Wizards center JaVale McGee?
Who knows, but the
Washington Post
reports that
McGee is officially on the trade block.
The Wizards have resisted inquires about JaVale McGee for several years, but it now appears that the supremely athletic 7-foot-1 big man could be had in the right deal. According to multiple NBA front office executives, the Wizards are open to moving McGee, who will be a restricted free agent this summer.

Teams have contacted the Wizards about McGee for some time, but the team has been unwilling to consider offers for him. Last summer, Minnesota discussed sending the No. 2 overall pick (which turned out to be Derrick Williams) in exchange for the sixth pick and McGee but the Wizards declined. Oklahoma City reportedly offered the No. 3 pick (which turned out to be James Harden) for McGee and the fifth overall pick before the 2009 draft.
ESPN.com also reports
that McGee is available, with a bit of a twist.
The Wiz have been shopping Andray Blatche for months with no luck in hopes of truly changing the team culture around prized youngsters John Wall and Jan Vesely. But sources say the Wiz are now weighing whether it's time to finally surrender McGee -- who for all his potential still routinely finds himself at the heart of Washington's ongoing turbulence -- on the condition that his new team take Blatche as well.
Let's get one thing clear: Blatche is a grenade that no one in their right minds would fall on, not even for a shot at a talented 7-footer.
The only reasonable resolution for Blatche in Washington is the amnesty clause. His deal runs through 2014-15, he's made a laundry list of poor decisions, his production isn't nearly up to snuff with his salary numbers once you take player efficiency into account and he's not someone you want within 25 feet of franchise point guard John Wall. Washington needs to buy out Rashard Lewis this summer, amnesty Blatche and get serious about the future. That's been apparent since the lockout lifted.
As for McGee, his laundry list of his bone-headed exploits is almost too long to recall. Short version: In the last 18 months, McGee has
gotten into a bar fight
with a teammate on Christmas Eve,
planked on an airport's moving walkway
,
sold out his side
, during a billion dollar labor negotiation, gotten benched for
throwing an alley-oop to himself
, had his mother refer to him as "
the future of the NBA
" while she slammed former Wizards coach Flip Saunders,
ran completely the wrong way
to play defense while his team still had the ball, and
volleyball goaltended
a shot deep into the stands for no apparent reason. Sounds like a franchise center, doesn't he?
All of that aside, McGee does produce. At 24, he's averaging 11.5 points, 8.9 rebounds and 2.6 blocks per game, all career-highs. He's the type of big man that needs constant oversight and development, but he's no stiff.
The trickiest part here is McGee's contract situation. Coming off a rookie deal, he's in line for restricted free agency this summer. Because he's 7-foot tall and can walk, chew gum, dunk and block shots at the same time, he will command serious interest this summer. No doubt, someone will throw real money at him thinking they can work with him and add polish in a way that Washington hasn't been able to in four years. With matching rights and plenty of cap space, this probably resolves with Washington being forced to decide whether they should match a bloated offer sheet. They have no readily available alternatives in the middle, so they probably end up paying to play, building around Wall, McGee and possibly guard Nick Young, pending the results of his own free agency.
Because McGee is currently on the books for just $2.5 million right now, because Blatche can't be amnestied by a team that trades for him, and because McGee will be due a pay day in a few months, interested parties will likely find it very difficult to create a trade that makes sense for both sides, with or without Blatche being included.
But these reports should be stored away in your back pocket for the summer, as Washington's softening on McGee's importance to their plans could foreshadow a sign-and-trade situation down the road.