Hornets considering extending Chris Kaman, not trading him?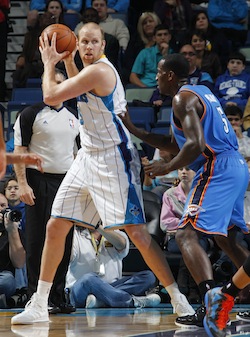 There was a time where it almost seemed like a guarantee Chris Kaman would be moving. The Hornets deactivated him while they publicly searched for a trade. They didn't find a proper suitor, despite teams like the Heat and Rockets showing interest.
Now, the Hornets might be looking to keep Kaman for the long-term.
Via SI.com
:
Sources said the Hornets are considering offering the 29-year-old Kaman an extension if no trade occurs, as they are intrigued about the possibility of pairing him with shooting guard Eric Gordon, a former Clippers teammate.
For a team that hasn't done much this season, Kaman has arguably been the Hornets best player this season. They need talent, but the plan was apparently to get younger. Kaman doesn't exactly seem to fit that plan.
Kaman though seems to want to remain with the Hornets.
"No, I like the opportunity I've been given. ... I like New Orleans," he said. "I like the fans. I like the city. I've had a -- so far -- great time there. It's tough. The season has been unpredictable."
The deadline is coming and Kaman's name will likely come up in a number of calls.
His name came up again recently
in a deal that would send him to Dallas for Lamar Odom. The Hornets might be considering keeping him and he might be a fan of that, but there's still a pretty strong chance he gets moved by March 15.