Report: Carmelo Anthony was against signing J.R. Smith. Awkward.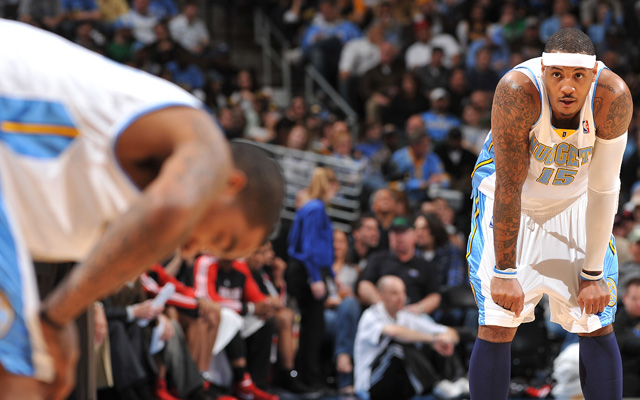 Carmelo Anthony

reportedly was against theKnicks signing

J.R. Smith

. Awkward.
(Getty Images, illustration by EOB)
Here come the rats.
When things are great it's all roses and Linsanity. But the
New York Knicks
have lost three straight and the losing extends really back to when Melo rejoined the team. And the next thing to happen is civil unrest. Monday the
New York Post
reported that when
J.R. Smith
was being pursued by the New York Knicks, they asked
Carmelo Anthony
if they should sign the volatile shooting guard after his release from the Chinese Basketball Association.
Melo said no. From the
Post
:
A couple of weeks before the signing, Anthony was asked if the Knicks should sign his former teammate who has a thuggish reputation. Anthony and Smith share the same agent, Leon Rose.

"If it happens, it happens and I'll be happy," Anthony said publicly before the signing.

But, according to the source, Anthony was not gung-ho and was "hurt'' Knicks upper management tossed his advice out the window.
viaAnthony didn't want Smith on Knicks: source - NYPOST.com.
This isn't a player Anthony wasn't familiar with, nor someone that he had an openly bad relationship with. Smith was Melo's sixth man in Denver and a reason for the Nuggets' 2009 run to the Western Conference Finals. Smith was the best upgrade available for the Knicks at the time, and despite his numerous issues, represented a good player to help the Knicks make a run this season.
And Anthony didn't want him. The implications here are threefold. First, the Knicks went to Anthony, got his advice, and signed Smith anyway. Two, someone from somewhere in the Knicks' organization leaked this, which is a bad look, whether it was Anthony's side or the Knicks' side. And third, it shows the power of former Nuggets and current Knicks executive Mark Warkentian inside the team. It was Warkentian who brought Smith in.
So now you have a sometimes-starting two guard who knows his star small forward didn't want him on the team while they're in the midst of a losing streak in which the wheels have nearly completely fallen off.
Get your popcorn, and watch your feet. Here come the rats.