Could the Warriors sit Stephen Curry for the rest of the season?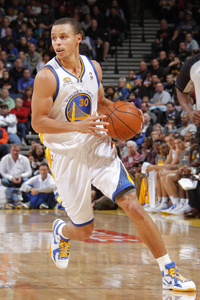 The Golden State Warriors are amazingly just three games out of the eight-seed in the West. But making a run at that slot doesn't seem to be a priority, not with the trade that sent major components Monta Ellis and Ekpe Udoh out of town for a center that's hurt for another month and, well, Stephen Jackson.
So could the Warriors be looking to go the opposite direction? Instead of a playoff push, are the Warriors considering just letting this season go while trying to gear up for 2012-13? If they decide to shut down Stephen Curry and his faulty ankle for the rest of the season, you'd certainly have to think so.
Via CSN Bay Area
:
It seems apparent that the Warriors are considering shutting down Stephen Curry for a while, and perhaps for the rest of the season.

That became clear after the Warriors-Kings game on Tuesday night, when Curry, himself, intimated as much as well as his teammate David Lee. Curry has been in and out of the lineup for approximately two weeks, and his right ankle has been an issue since the preseason. He's tweaked the ankle several times this year and last, and nobody has come up with a reason as to why it keeps happening.

When Curry was asked about his status for the rest of the season, he responded: "I'm just trying to get healthy. I'm getting fed up with dealing with the same thing over and over again and trying to push through it and not being able to produce like I want to on the floor.

"That's my main goal, to get healthy. What that means I'm not sure yet. I'll continue to do my rehab and my treatment and listen to the (training) staff. I'm sure we'll have a better idea what we're going to do going forward later."

Trading Monta Ellis and Ekpe Udoh – two starters – to the Bucks indicates that the Warriors have given up their pursuit of the playoffs. If that's the case, it likely also makes sense for the Warriors to shut down Curry.
It's certainly not a popular decision to make, but the Warriors are working on a change of culture, an entire organizational rehaul. Ownership has changed hands, Mark Jackson has brought a new philosophy and with the Ellis trade, Golden State is finally attempted to adjust itself.
And any time you work on a re-structuring like this, you've got to take a long-term view rather than a shortsighted one. The playoffs would be wonderful, but let's face it: The Warriors aren't winning a title. They very likely aren't getting out of the first round. And that's the mission statement for ownership now, so in view of the long-term vision, having a healthy Curry is far more important than trying to get to .500 so you can be swept by Oklahoma City.