Lakers trade Walton, Kapono, pick to Cavaliers for Sessions, Eyenga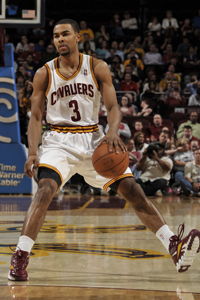 Ramon Sessions is L.A.-bound.
(Getty Images)
The Los Angeles Lakers have had an obvious hole at the point guard position for years now, and they reportedly took an expected step to shore up the problem on Thursday.
ESPN.com reports
_that the Lakers have traded forwards Luke Walton, Jason Kapono and a 2012 first round pick to the Cleveland Cavaliers for guard Ramon Sessions and forward Christian Eyenga.
The Akron Beacon Journal_also reports
that the Lakers will send forward Luke Walton and a 2012 first round pick for Sessions and Eyenga.
Sessions had been on the trade block for months given the emergence of potential 2012 Rookie of the Year Kyrie Irving.
Sessions, 25, is averaging 10.5 points, 5.2 assists and 3.1 rebounds in 24.5 minutes off of Cleveland's bench this season. Sessions is on the books for $4.3 million in 2011-2012 and $4.6 million for 2012-2013.
The seldom-used Eyenga is on his rookie deal that runs through 2012-2013, with a team option on 2013-2014.
Walton is on the books for $5.7 million this season and another $5.8 million in 2012-2013.