LeBron says he's too tough for concussions. No, seriously, he said this.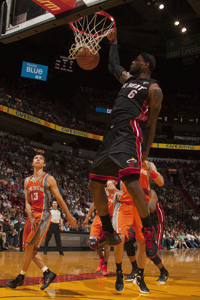 LeBron James says he's too tough for a concussion, because that makes sense.
(Getty Images)
LeBron James took a few bumps during the Heat's win over the Suns Tuesday night, and afterwards, had some weird comments. Most notably, a reporter asked if he had sustained a concussion from a head-on collision with Grant Hill. From Fox Sports Florida:
OK, so is James more like the Terminator or Myers from the Halloween movies?

"I would say Micheal Myers," Pittman said. "You can't kill him."

James doesn't necessarily disagree. The final question during his postgame news conference was if he ever has had a concussion.

"No," James said. "I'm too tough for that."

Then he walked away, acting as if nothing had happened.
viaLeBron James 'too tough' to be kept out.

Bear in mind, this is coming from the guy who most people associate with a collapse of effort in 2010 against the Boston Celtics, in which many people said that he "quit." So these comments are going to get a snort from several people.

But LeBron James' usual level of obliviousness and lack of self-awareness towards his public perception (while being hyper-self-aware on the basketball court, which may be his biggest weakness) isn't what concerns me. This is what concerns me.
"I haven't had one of those hits since I had on pads and a helmet," said James, who played football in high school. "I had a steal coming… and then the next thing I knew I was on the floor."

James, though, did admit after the game, "I've been better. I've got a little headache, but I'll be all right."

James said he didn't have any tests for a concussion. When he was attended to on the floor after the incident, he answered enough questions correctly from the training staff that he was allowed to finish the game following a timeout.
viaLeBron James 'too tough' to be kept out.

James having a headache following a blow to the head is a little distressing. Concussion symptoms are incredibly difficult to pin down in vague cases, primarily because our collective understanding of neuroscience and in particular the brain's function under the effects of the concussion are relative to my understanding of why my wife spends $200 at an antique store buying other people's used crap. We don't understand it, we just know it happens.

James is a tireless worker and the question of his toughness is going to vary from partisan person to partisan person (anyone interested in having the discussion has a strong opinion of James; that's just how it works). But in a season with so much contact in such a confined space of time, talk like that has to give you pause, especially with how careful the NBA is being with concussions this season.
Also, one last thing. It doesn't matter how tough you are. Sustaining a concussion isn't a matter of toughness. You can be Chuck Norris and get a concussion. It's a matter of where and how you're hit. And James needs to be aware of the serious implications of having one in case he does suffer one in the future.