Allen Iverson signs to play in the Dominican Republic?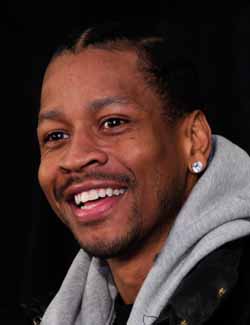 Iverson wants to make an NBA comeback, but it's going to have to start in the Dominican Republic.
(Getty Images)
Allen Iverson
is back in basketball. But not any kind of basketball you're likely to be watching.
According to the AP, Iverson has signed to play in a regional basketball league in the Dominican Republic for a month. Iverson, 36, has signed to play with Pueblo Nueva, the team's president Milton Nunez told the AP. Nunez did not say how much Iverson would be paid.
However, there appears to be some confusion. Iverson's manager, Gary Moore, says Iverson will not play for the team. He says Iverson hasn't signed and isn't considering signing with anyone. Moore said he was "shocked," by the claim by Nunez, according to the AP.
The former NBA superstar has run into financial difficulty and has begun the process of trying to make an NBA comeback. The Lakers
reportedly had interest in Iverson at a time
, but that included him signing to first start out in the D-League to prove himself being in shape and whatnot. There were also reports of
Iverson signing to play in Pueto Rico
.
Iverson is to arrive Sunday and play for his second-place team that same day against GUG in Santiago province, Nunez said.
"He and his agent have told us that he has been training a lot and that even if he hasn't been playing anywhere, he has what we need to help Pueblo Nuevo," Nunez said, via the AP report.
Iverson hasn't played in the NBA since 2010 when he was released by theGrizzliesand failed making an impact in returning to Philadelphia. After that, he tried to play in Turkey but an injury (and possibly other issues) brought him home early.