Andrew Bogut won't return this season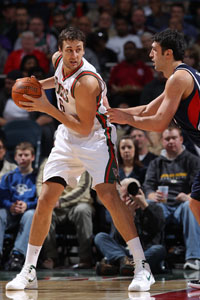 Bogut is done for the season because of an ankle injury.
(Getty Images)
The Warriors knew what they were doing when they acquired Andrew Bogut. Deal two key rotation players for a guy that's injured and can't play. That's called tanking genius.
Bogut, who has been out with a fractured ankle, won't return this season to the floor, he told the San Francisco Chronicle.
"At this point, I think it's safe to say that returning this season is not going to happen," Bogut said. "The most important thing is to get the bone right. If I come back at 99 percent, and the bone is unsettled, and something shards off, I'm in big trouble. It would be nice to play this season, but it's not going to happen."
Bogut hopes to play for Australia in the London Olympics this summer, but that's up in the air at this point.
"I've got to think about this franchise and what they've invested in me," says Bogut. "I've got to treat the Olympics with the respect it deserves and be fair to the fans in Australia. But if I'm not 110 percent, I'm not going to play."
The Warriors acquired Bogut for the future, not for the now anyway. He has two more years on his deal paying him $27 million through 2014. Plus, the worse the Warriors do now, the better. They traded a top-7 protected pick to the Utah Jazz a few years ago, so the more tanking they do, the better chance they get to use their lottery pick this season. Each win hurts, at this point.
So not having a guy like Bogut means your chances of losing are even better. And it's not like it's obvious tanking either where a guy is resting a "sore hamstring" or something. Bogut's actually hurt and can't play. The Warriors have already talked about shutting down Stephen Curry, which would just take the tanking up another notch. Might as well. If you're going to do something, do it right.