Quarterly Report: NBA team-by-team grades
The 2011-2012 season has hit the third quarter mark. With playoff chases looming and tanking plans already underway, CBSSports.com's Eye On Basketball staff sat down to grade each team based on realizing their potential and expectations, graded on a curve. Here's what we came up with.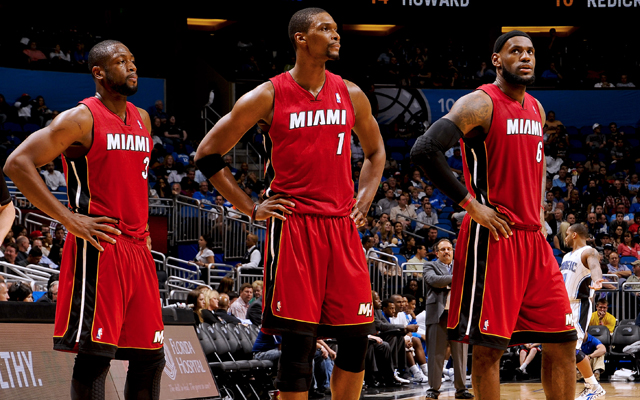 The Heat haven't been perfect this year.
(Getty Images)
SOUTHEAST DIVISION

by Royce Young

Miami Heat

Other than not starting the season 9-8, it seems this Miami campaign is similar to the inaugural one. Defensive dominance, easy wins over average and below teams and some curious struggles against top flight opponents. But they do seem better. Despite a recent swoon, LeBron James is having probably the best season of his career, Chris Bosh fits better within the offense and Dwyane Wade is, well, an awesome basketball player. There's a bit more depth with Shane Battier, rookie Norris Cole and new signee Ronny Turiaf and they've had a healthy Udonis Haslem all season. All of that is nice, but it's about one question: Is this group good enough to win a championship? To be determined.

GRADE: A-

Orlando Magic

Somehow, the Magic hung on to Dwight Howard for the rest of the season opening the opportunity for this rag tag bunch to make another run. And they've played surprisingly well all season, rising to third in the East and giving at least a drop of hope that they're good enough to challenge in the Eastern playoff picture. They aren't, but there's at least that thought. Which is saying something, considering where feelings were with the Magic two months ago.

GRADE: B+

Atlanta Hawks

Injuries have ripped up the Hawks, but they're quietly still pushing forward. They're in that same old place though. Good enough to make the playoffs, but not anywhere close to good enough to actually do something big when they get there. They can probably win a series, but they aren't going past that. They're stuck. They're locked into a core that doesn't seem to be capable of pushing past the second round. Still, there's something to be said for overcoming injuries, which is what they're doing without Al Horford.

GRADE: B-

Washington Wizards

The good news? They finally washed their hands of JaVale McGee and Nick Young. The bad news? They still have Andray Blatche and they're still the Wizards. The development of John Wall has been stunted due to a toxic roster that hasn't encouraged any kind of growth. The expectation has been unfair with Wall in that he's supposed to just magically elevate a terrible group to another level. I'm not even sure LeBron could do that with this roster. They're trying something new with Nene and there's a good amount of cap space to use. So maybe it's going to start turning around. Then again, it's the Wizards.

GRADE: D-

Charlotte Bobcats

Being terrible is the first step in eventually being good. And the Bobcats are doing an outstanding job of being terrible. They're already almost assured of having the most ping-pong balls in the Anthony Davis lottery, which is exactly what they want. A core of Davis, Kemba Walker and Bismack Biyombo is something worth building around. There are pains in rebuilding and the Bobcats are suffering through them. But it's part of the process. They're doing a great job at what they're supposed to be doing: losing.

GRADE: C-

CENTRAL DIVISION

by Matt Moore

Chicago Bulls

They went 14-3 during this quarter and have been simply phenomenal. They bring it more consistently than any team in the league and even without Derrick Rose for many of their games this quarter, they've still produced at both ends. Tom Thibodeau deserves Coach of the Year for his performance.

GRADE: A+

Indiana Pacers

The Pacers had some signature wins and some disastrous losses. They're just about where they've been. No one thinks they're Finals contenders, but they're a good team that could make a little run if things go right for them. A good season for Frank Vogel in his first without the interim tag.

GRADE: B-

Milwaukee Bucks:

Traded for Monta Ellis to boost their offense and it's working out. They're winning at a decent clip and getting more contributions from Drew Gooden (who has quietly had a great year) and Ersan Ilyasova. They have defense, their offense has been the sixth best this quarter and they made their team better long-term. Things are looking up in Milwaukee.

GRADE: B+

Cleveland Cavaliers

They haven't played well, going 4-13, but they made moves for their future, are getting their guys playing time who need it, and are tanking to improve their draft position. The Cavaliers know they have a good team going forward. It's all about the future now.

GRADE: B

Detroit Pistons: This team really should be better than it is. They are .500 over their last 20 games, but just have no consistency night to night. Some nights they're a scrappy squad with a great star in Greg Monroe and some dangerous supporting players. Other nights they're a doormat. There's reason to believe the future has better days ahead but Joe Dumars has to stop giving out massive contracts to veterans for that to happen.

GRADE: D

ATLANTIC DIVISION

by Ben Golliver

Philadelphia 76ers

It's difficult to love how the 76ers have played recently, going 8-9 since the midway point after a rip roaring hot start. The defense remains sensational but the late-game struggles are a major concern. Seeding will be huge for the Sixers, who don't stand a chance of toppling one of the conference's top seeds over a 7-game series. Turnaround time is now.

GRADE: C

Boston Celtics

Despite weathering roughly 156,938 injuries, the Celtics reeled off a 13-6 third quarter to get themselves in position to win the Division. It's too bad, too, because this team was so much fun to write off. The offensive efficiency has been anemic, but none of the East's upstart teams wants any part of a 4 vs. 5 series with Boston.

GRADE: A-

New YorkKnicks

I thought the shortened season was supposed to make for less ups and downs? Not so in New York, where Linsanity gave way to the D'Antoni Divorce and now there's a new headline every day as to whether Carmelo Anthony can make this thing work. Throughout it all, New York went a solid 10-8 in the third quarter, thanks in large part to the post-D'Antoni winning streak. Things could be worse; things could be better.

GRADE: B

Toronto Raptors

Not that it matters, but the Raptors had a (relatively) great third quarter, going 8-11 and nearly matching their win total for the first half of the season. This is still seventh circle of Draft Lottery hell though. Forgive Toronto fans for cheering for late-game pizza during a loss and for looking forward to next season, when Jonas Valanciunas and another top lottery talent will be in the fold. Hit fast forward on the fourth quarter; it's ping pong ball time.

GRADE: C

New JerseyNets

The Nets are still awful, going 7-11 in the third quarter, now in 13th place in the conference league-wide. The Gerald Wallace trade was a puzzler as his uncertain future was a major risk to take on in exchange for what was sure to be a quality lottery pick. Deron Williams still feels gone, as the last year since his acquisition has played out like a worst case scenario. At least the move to Brooklyn is that much closer. That's the only silver lining here.

GRADE: D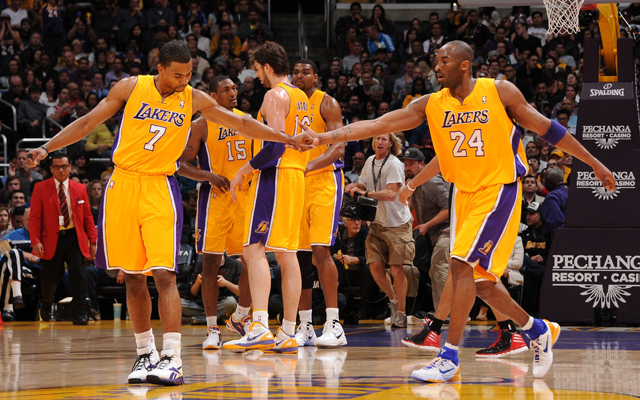 TheLakers are picking up steam.
(Getty Images)
PACIFIC DIVISION

by Royce Young

Los Angeles Lakers

Expectations are always high in Laker land. Having a good season isn't enough. It's about great seasons with outstanding record and championship banners. But considering the circumstances -- trading Lamar Odom, new coach, new philosophy, some behind-the-scenes issues -- the Lakers are having a really nice season. Third in the West, a sparkling home record and most importantly, a team that looks built to compete in the Western playoffs. The trade acquiring Ramon Sessions puts the Lakers on another level. Andrew Bynum is playing his best basketball. Kobe Bryant looks healthy. Pau Gasol is Pau Gasol. They don't have depth, but in terms of front row talent, they're in pretty good shape.

GRADE: B+

Los AngelesClippers

Once the Chris Paul trade happened, expectations went to a place where they've never been with the Clippers. Playoffs weren't enough. It was about competing for more. A lot of people have tried to keep perspective with the Clips and point out that the Los Angeles Clippers are fourth in the West, but then again, this team is too good to be struggling the way they are. The only reason they're getting a pass is because they have "Clippers" on the front of their jerseys and we all associate failure with that. Put this kind of talent anywhere else and people would be expecting a lot more.

The injury to Chauncey Billups was really unfortunate and they are lacking defensively. But a 29-21 record and struggles the last month to the point where Vinny Del Negro is likely a lame duck coach isn't good enough.

GRADE: C+

Phoenix Suns

What's best for the Suns right now: Pushing for the playoffs and further delaying their inevitable rebuild or tanking away the season and the twilight of the careers of Grant Hill and Steve Nash? Obviously they're choosing the former because Phoenix has played solid basketball since the All-Star break putting its name into the Western playoff picture. The Suns probably won't get there, but it's hard not to be impressed with the way they've played of late, even if it's probably the worst thing for them to do.

GRADE: B

Golden StateWarriors

Let's see, they traded two of their core pieces for a guy that's hurt all the time and can't play at all this season. They booed their owner mercilessly at a jersey retirement of one of their legends. They're going to fail on the promise to make the postseason. Their star, Stephen Curry, a chronically sprained ankle. And they're pretty blatantly tanking. Good season, Warriors!

GRADE: F

Sacramento Kings

With a new arena deal and the team staying, I almost feel like this season gets a pass. Then again, the Kings a rebuilding nothing. There's no real plan, there's no real structure. They've got some young talent, but it's hard to see this roster ever cohesively forming into a consistent winner. Ownership promised using the team's cap space, which they did not and now it's yet another lottery season for the Kings. Hard to picture them digging out of this hole any time soon unless something dramatic happens or they fall upon a little lottery luck.

GRADE: D

NORTHWEST DIVISION

by Ben Golliver

Oklahoma CityThunder:

Nothing has stopped the juggernaut. OKC went 13-5 in the third quarter, dropping their win percentage just a touch but still holding a solid 2.5 game lead on the rst of the conference. In the midst of a 4-game winning streak, the Thunder appear locked in for another deep playoff push. Anything less than a Finals apperaance would be a disappointment for MVP candidate Kevin Durant, Russell Westbrook and company. And don't overlook all that frontcourt depth.

GRADE: A+

Utah Jazz

The Jazz went 12-8 since we last checked in, continuing their run as one of the pleasant surprises during this NBA season. This isn't a team built for the playoffs by any stretch of the imagination -- just look at their 8-18 road record -- but the first year of the post-DWill era has to be considered a smashing success, given the circumstances.

GRADE: A-

Denver Nuggets

The Nuggets went 9-9 in the third quarter but, more importantly, shipped out veteran center Nene Hilario, signed to a long-term deal in December, for JaVale McGee. The move symbolizes the season. Once seen as a potential threat to the Thunder, Denver has shifted course and now is fighting for a playoff spot. Injuries have wreaked havoc, so the sputtering doesn't amount to a collosal disappointment.

GRADE: B

Minnesota Timberwolves

The Northwest Division's third spoke in a tight race for the a playoff berth, Minnesota sits just outside the playoff picture at 25-27, 9-10 since the midway point. The Ricky Rubio loss was a crusher, of course. It sounds crazy, but the novelty of Minnesota as a competitive team has already worn off. Kevin Love has proven to be so good, so soon, that playoff expectations are now firmly in place for this club going forward. For this year, though, it's still the honeymoon season for a team on the upswing, playoffs or not.

GRADE: B+

Portland Trail Blazers

They killed their coach, gave up repeatedly during games, had their effort questioned by ownership and management, saw the roster blown up at the deadline and are now limping into the offseason with an Acting GM, an Interim Coach and rumors that the franchise could be up for sale. A team that pitched itself as a potential No. 2 seed in the West back in January went 5-11 in the third quarter. Taking out the dynamite to start the rebuild was absolutely the correct call.

GRADE: F

SOUTHWEST DIVISION

by Matt Moore

San AntonioSpurs

12-5 this quarter, tied with the Thunder for the West's best against top competition and in a brutal schedule. The Spurs are clicking on all cylinders and improving in key areas. Headed into the last month of the season, the Spurs have a ton of momentum if they can sustain.

GRADE: A+

Dallas Mavericks

An 8-9 record and several key losses in signature games. The Mavericks just can't get any semblance of consistency to themselves. They continue to struggle with integrating new parts three months into the season and haven't been able to get or stay healthy. Lot of questions for the champs.

GRADE: D

Memphis Grizzlies

10-7 this quarter and they've figured out how to balance their scoring and got Zach Randolph back. A hot start was followed by a terrible stretch, but the Grizzlies recovered and now look like a napping wolverine headed into the playoffs.

GRADE: B+

Houston Rockets

It's hard to blame them for their 7-10 record this quarter since they have been without Kyle Lowry for most of it (and likely will be without him for the rest of the year) and they've played some tough teams. But once again this team looks like it's in position to barely miss the playoffs and get a poor lottery slot. Good effort, but where are they going?

GRADE: C

New OrleansHornets

How does a team that goes 5-12 get a passing grade? They can't help the talent they have no their roster. But they've continued to hustle and play with urgency in the face of every reason to give up. They're professionals and approach every game with that mindset. Monty Williams has done a good job in a disastrous season.

GRADE: C-