Kings sign G/F Terrence Williams for rest of the season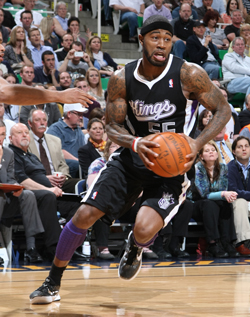 The Kings have signed Terrence Williams for the rest of the season.
(Getty Images)
Terrence Williams can upgrade his Facebook relationship status from "it's complicated" to "in a relationship."
The Sacramento Kings announced on Saturday that the team has signed Williams for the rest of the season after originally inking him to a 10-day contract shortly after the trade deadline.
The Sacramento Kings today signed guard/forward Terrence Williams for the remainder of the season, according to Kings' President of Basketball Operations Geoff Petrie.

Williams, currently in his third NBA season, is averaging 7.5 points (.500 FGs, .286 3FGs, .667 FTs), 3.3 rebounds, 1.8 assists and 1.0 steals per game through four outings with the Kings off the bench.
Williams began the season with the Houston Rockets but was released following a flurry of trade deadline moves. An athletic and talented wing who seems to get dogged with questions about his decision-making and maturity everywhere he goes, Williams was a lottery pick in the 2009 NBA Draft. He was selected by the New Jersey Nets and eventually traded to the Rockets during the 2010-2011 season.
The Kings are headed for the Draft Lottery, again, so the move simply means he'll be sticking around for another month or so. Williams joins a crowded perimeter rotation that also includes guards Tyreke Evans, Marcus Thornton John Salmons, Jimmer Fredette and Francisco Garcia, among others. Hopefully there will be some roster-balancing to come during the offseason.
Williams, 24, holds career averages of 7.4 points, 3.8 rebounds and 2.4 assists per game.