Knicks G Jeremy Lin (knee) to undergo surgery; expected to miss 6 weeks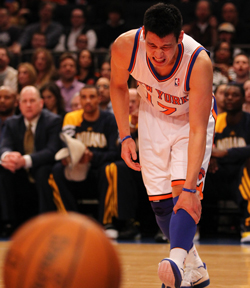 Jeremy Lin will miss 6 weeks due to a knee injury.
(Getty Images)
It's possible that we've seen the last of Linsanity for the 2011-2012 NBA season.
The New York Knicks announced on Sunday that guard Jeremy Lin will undergo arthroscropic surgery to repair a "small, chronic meniscal tear" in his left knee. He's expected to miss six weeks, which puts his season in jeopardy.
"I want to be out there helping the team. It's a 6 week rehabilitation process but I heal quickly so we'll see," Lin said,
according to the Knicks
. "When I come back I'll be stronger than I ever was and a better player."
"It's a big blow," Knicks interim coach Mike Woodson said,
according to The New York Times
.
The Knicks play their final regular season game of the year on April 26, less than four weeks away. New York is currently the No. 8 seed in the Eastern Conference with a record of 26-26. The Knicks hold a 1.5 game lead over the Milwaukee Bucks, the East's No. 9 seed, with 14 games remaining on their schedule. There's a chance that Lin could be available for the playoffs, assuming the Knicks qualify, but first round series are scheduled to begin on April 28. The Knicks are not expected to advance to the second round.
Lin has missed New York's last three games due to the injury, last playing against the Detroit Pistons on March 24. New York is 2-1 in his absence.
Woodson has started Baron Davis and Iman Shumpert in his backcourt and used J.R. Smith, Mike Bibby and Toney Douglas off the bench.
Lin, a Taiwanese-American, rose to international stardom earlier this season when he had a sensational month after moving into the Knicks starting lineup. Lin went undrafted out of Harvard and was released by both the Golden State Warriors and Houston Rockets before his breakout in New York.
Lin, 23, is averaging 14.6 points, 6.1 assists, 3.1 rebounds and 1.6 steals in 26.9 minutes per game for the Knicks this season.