DeMarcus Cousins says Blake Griffin is an 'actor' that fakes fouls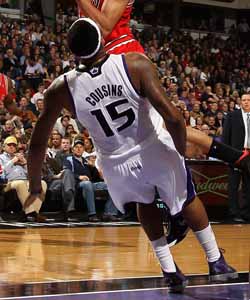 Blake Griffin
is a monster. A beast. He's whatever creature-like word you want to describe him. He's relentless on the court, playing all out all the time, attacks the rim recklessly and plays a kind of basketball that hometown fans love while opposing crowds loathe.
As well as opposing players.
DeMarcus Cousins
matched up with Griffin Thursday and couldn't stay on the court because of foul trouble. Cousins played only 18 minutes and his fifth foul where he was called for hitting Griffin in the eye, set him off.
Via the Sac Bee
:
"I guess the wind from my hand hit him in the eye," Cousins said. "I guess he got fouled by the wind….

"(Griffin is) in L.A. where actors belong," Cousins said. "He's an actor, so of course he would say (that he wasn't worried about it)."
There's a reason
Jason Smith
bulldozed Griffin. Because opponents are tired of his act. Tired of the mean-mugging after a dunk, tired of the staredowns after a simple layup, tired of the physicality he dishes out without being willing to accept any in return.
Griffin's built a reputation in under two seasons for being a flopper, but that doesn't really describe his style. What Griffin does is exaggerate contact. I realize that's what flopping is, but Griffin's not standing there faking charges or flopping for offensive fouls. He just falls way harder than he should.
This, for example
.
Griffin has always been bigger than his opponents and this way of acting is a bad habit he developed in high school as a dominant small school player in Oklahoma. He was too big and too strong for opposing defenders, so if he was ever going to get a call, he was going to have to sell it. Then he developed this idea that every player on the court wants to cheap shot him and started taking even the lightest fouls personally.
Now, Griffin has absorbed more cheap shots than most.
There was this play in the NCAA tournament
, Smith's flagrant and a few others. But some of those are out of similar frustration Cousins expresses, and some of those are simply oversold by Griffin.
Blake Griffin hasn't made many friends during his almost two seasons. Dunking on people makes enemies, but there's a brewing lack of respect for him. And he's caught in a dangerous place. Opponents are fed up with him and might try and send a hard foul message, while Griffin falls hard than he should selling contact. All that could add up to the perfect storm of Griffin getting hurt.
Oh, and by the way: The
Kings
and
Clippers
play again Saturday.
Via PBT