NBA fines DeMarcus Cousins $25K for complaining about referees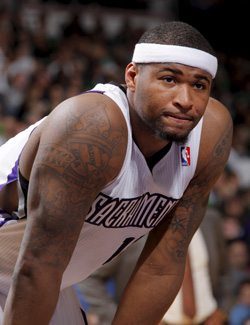 DeMarcus Cousins has been fined by the NBA for complaining about the referees.
(Getty Images)
Boogie better pay up.
The NBA
announced on Friday
that Sacramento Kings center DeMarcus Cousins has been fined $25,000 for "public criticism of the officials" following a 93-85 loss to the Los Angeles Clippers on Thursday night. Cousins fouled out of the contest.
After the game,
Cousins complained
that Clippers All-Star forward Blake Griffin was an "actor" and said of one Griffin flop: "I guess he got fouled by the wind."
SI.com reported that
Cousins said that Griffin gets preferential treatment from the NBA.
"He's babied," Cousins told SI.com after the Kings fell to the Clippers 93-85. "He's the poster child of the league. He sells tickets, but he's babied. Bottom line."
Cousins, 21, is averaging 18.0 points, 10.9 rebounds, 1.6 assists, 1.3 steals and 1.3 blocks in 30.2 minutes per game for the Kings this season. He's making $3.6 million during the 2011-2012 season.