Antoine Walker announces retirement from basketball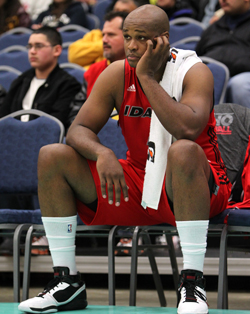 Antoine Walker has retired from basketball.
(Getty Images)
Employee No. 8 won't be back to work tomorrow.
3-time NBA All-Star Antoine Walker announced his retirement from basketball on Saturday.
Walker, 35, announced his intentions to his Idaho Stampede teammates following a Saturday night D-League game against the Bakersfield Jam. The team announced Walker's decision in a press release after the game.
Immediately after the game in the Stampede locker room, three-time NBA All-Star and two-year Stampede veteran Antoine Walker announced his retirement from basketball.

Entering tonight's contest – in which he had six points, and four assists in 20 minutes, 14 seconds – Walker played in 86 games with the Stampede (56 starts) from 2010-12. In that time, he averaged 12.8 points, 5.7 rebounds and 2.9 assists in 29.3 minutes per game. This season, Walker averaged 9.5 points, 4.9 rebounds and 2.3 assists in 44 games (17 starts).

Walker is expected to make a formal announcement in the coming days.
Walker averaged 17.5 points, 7.7 rebounds and 3.5 assists in a 12-year NBA career that included stops with the Boston Celtics, Dallas Mavericks, Atlanta Hawks, Miami Heat and Minnesota Timberwolves. Walker won a title in 2006 as a member of the Heat.
Walker was playing the D-League with the hope of making an improbable NBA comeback. He last played in an NBA game during the 2007-2008 season.
In December, Walker
pleaded guilty
to writing bad checks and was sentenced to 5 years of probation in a case involving Las Vegas gambling debts.