Dwight Howard to miss Orlando's game Monday, possibly Tuesday too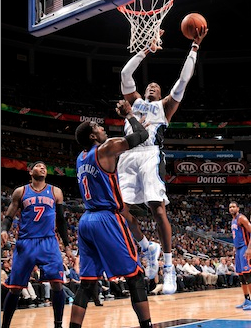 If you want a glimpse of post-Dwight Orlando, here's your chance.
Dwight Howard will miss the Magic's game Monday against the Pistons Monday with back spasms. He's also questionable for Tuesday's matchup against Washington.
Common sense would say the Magic should be fine with Howard in those two matchups, but with the way their season has gone, I don't think taking any game for granted is wise.
There's no structural damage, so the only way to heal up his back is with a little rest. And with the Magic seemingly secure in their playoff spot (up five games on the Bucks with 10 to play), Howard needs to be healthy for the postseason.
Howard of course has been tangled in quite the controversial season in Orlando from his contract situation, to his flip-flopping to his asking for Stan Van Gundy to be fired.
In the end though, he's the cornerstone of this team and he has said he's "all in" with it in terms of winning a championship. His effort on the floor could be questioned, but with a monster bounce back game in Philadelphia playing through pain, I think it wouldn't be smart to say Howard's not playing hard for this team.