Warriors interested in Lamar Odom?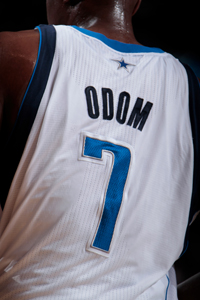 Do the Warriors have an eye towards Odom?
(Getty Images)
So... who wants Lamar Odom? Not everyone at once now.
After a season in which Odom was so bad that the Mavericks are actually paying him to stay away from the team, it's hard to imagine suitors lining up. But he is only 32 years old and is just a year removed from one of his finest seasons. If he gets in shape, gets his mind right and is ready to play, he could be a fit. No doubt he's still got talent.
At least that's what the Warriors are thinking, according to the Oakland Tribune.
The Warriors have an eye for Lamar Odom to fill out their starting lineup next season. ... Multiple team sources told me Odom would be a good fit. He's someone on their radar. What's more, Odom gives them another creator on the floor, another person to run the show in transition.
All of that assuming, again, that Lamar Odom decides to be Lamar Odom. And not the guy the Mavs had to struggle with this season.
Right now, he's obviously still under contract with the Mavs and Dallas needs to trade him before his contract becomes fully guaranteed next season. Either Dallas, or another team, will only owe him $2.4 million instead of $8.2 if he's released by June 29. Odom would then be a free agent and could sign with anyone starting July 11.
The Mavs will likely look to deal Odom in conjunction with the draft so that they can get something back for him, even if it's just a second round pick or something. The Warriors could either make a move then, or just wait for him to become a free agent. Golden State is over the cap next season though so the most they can offer is a four-year deal at the $5 million mid-level exception. Which in all honesty, is about all Odom should command after the season he just turned in.
For Odom, it's really a question of if it he still wants it. If he's willing to put in the time and effort to play good basketball again. Because his ability didn't up and leave him yet. He can still play if his mind is right and he's committed to a team. But at this point, that's something nobody can know which makes him a bit of a gamble for any team that's interested.