Derrick Rose a game-time decision against the Heat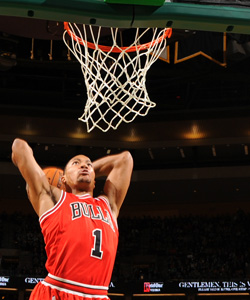 Derrick Rose
is a game-time decision for Thursday's showdown against the Heat, but did practice Wednesday and is likely to play.
Rose missed one game with a sprained ankle after returning from a pulled groin.
"He's fine,"
coach Tom Thibodeau told reporters
. "He went through practice and we'll see where he is (Thursday). He'll be game-time again.
"When he's healthy, he can go. He probably could've gone last night but we wanted to be safe with it. He's feeling a lot better. All the swelling is out so that's good."
Rose has missed 23 games this season with different injuries. The Bulls are 16-7 without him.
The Bulls and Heat have split the season series 1-1 so far with
Chicago
beating
Miami
without Rose earlier in the season. With this being a likley conference finals preview, it would be nice to get a sense what both teams will look like at full strength. Especially to see what matchups look like and to have an idea how it plays out if LeBron guards Rose again. The more practice at it, the better.
The two teams do play one more time this season.
The Bulls currently have a three-game edge on the Heat for first place in the East so a win tonight would go a long way into securing that for good. And to do it, they can't rely on
John Lucas
III to have the game of his life again. They need Derrick Rose.