OT loss to Chicago Bulls means cool down time for Miami Heat, LeBron James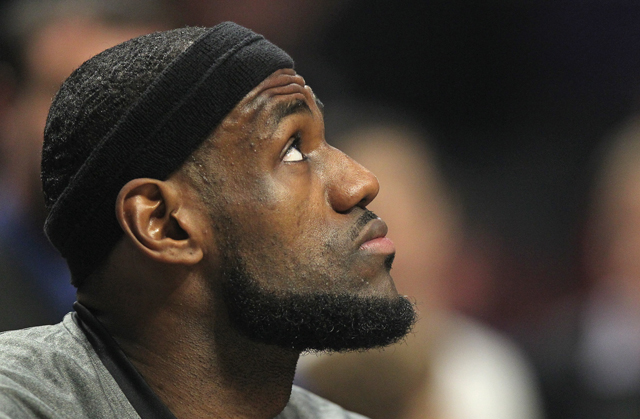 LeBron James should be doing more of this over the next two weeks.
(Getty Images)
The Miami Heat fell one LeBron James
free throw short
of a dramatic road victory over the Chicago Bulls on Thursday. They added one to the loss column, now 40-17, but gained plenty of clarity in the process.
By virtue of the head-to-head loss to the No. 1 seeded Bulls, the Heat slipped four games back with just nine games to play. With a 4.5 game lead over the No. 3 seeded Pacers, it would take a miracle or an absolute disaster for the Heat to finish anywhere except No. 3 in the East.
"This is one of the worst feelings I've had in the regular season this year," James said after the loss, according to the Associated Press.
That's James' competitive side talking. Given the way the win disappeared, and the opponent, you wouldn't expect anything else. The head-hanging, though, shouldn't last too long.
While there are lineup questions galore, assorted nicks and bruises to star players, and concerns that the bench might not be good enough to survive a 7-game Eastern Conference Finals with the Bulls, Miami can now decelerate through the rest of its busy April schedule without any repercussions. The Heat are set to play their final nine games in the next 14 days, beginning with the second half of a back-to-back against the lowly Charlotte Bobcats on Friday night.
Convincing Heat coach Erik Spoelstra to take his foot off the gas is never an easy proposition, especially with his team just 9-8 over the last month and 1-3 in their last four. That's fine. This doesn't need to be a full-on shutdown, but it's definitely time for a cool down.
Managing minutes starts with James, who's averaging 37.7 minutes per game this season, sixth most in the league. He played 47 out of a possible 53 on Thursday and topped 40 two other times over the last eight days. There should be plenty of time in the next fortnight to let him rest his elbow and whatever else is bothering him. As for his running buddy Dwyane Wade, who has been held out of a pair of games recently, there's nothing preventing him from continuing to receive the kid gloves treatment.
Given how Miami churned through the first two rounds of the East playoffs last year and the quality of their most likely first round opponents -- Philadelphia or New York, whoever finishes better -- it's time to forget about the short-term hand-wringing and embrace the long approach. James, Wade and company have simply shown that they are human just like everyone else during this brutal lockout schedule. They'll be ready when the playoff lights are on and they'll rightfully be heavy favorites no matter who they face in round one.
There's no longer any reason to kill themselves on the way to that stage.